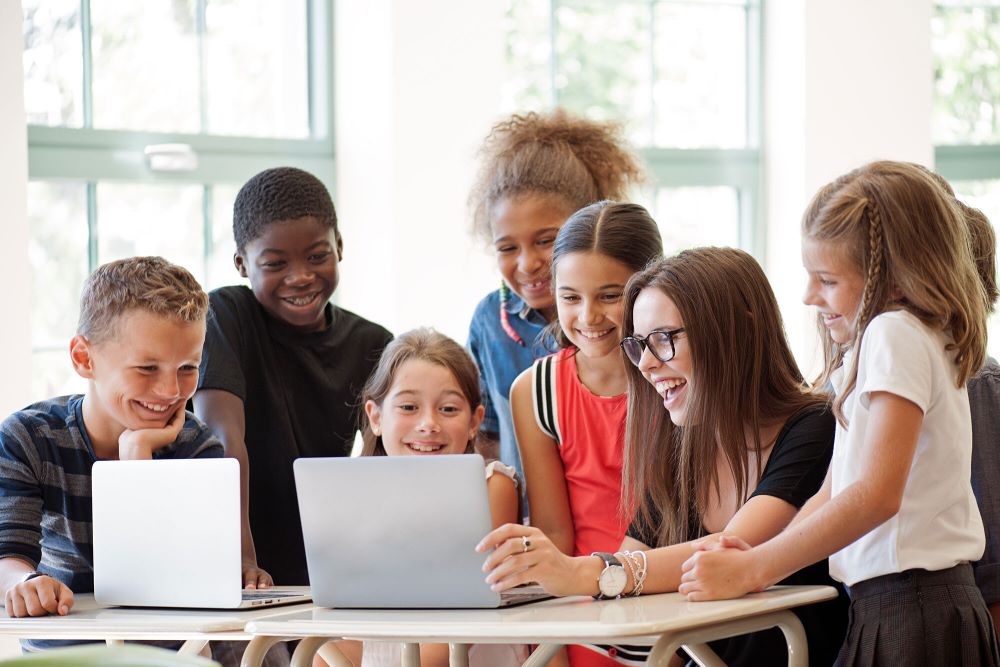 K-12 schools today face challenges to quickly resolve new issues, support effective teaching and engaging classroom experiences, and operate efficiently on tight budgets. How can schools stay agile, meet diverse needs, and positively impact student outcomes?
For many districts, a low-code platform offers the remedy. Schools can create and integrate custom apps to simplify daily tasks and streamline manual processes that bog down staff.
Check out these four ways to tackle administrative and operational overload with the Claris platform.
1. Develop a custom app to replace repetitive, manual tasks.
Critical tasks like tracking computer inventory and student information — and then matching them — can overwhelm school staff.
Beverly Public Schools (BPS) in Beverly, Massachusetts experienced this first-hand. The school started a one-to-one laptop program but didn't have a reliable way to track inventory or access student information. The school's goal was to provide each student with a personal laptop to use throughout their high school years and then take the device with them after graduation; however, matching assets to students was a painstaking, time-consuming process.
Leveraging Claris FileMaker — a low-code platform for custom app development — the school built an inventory tracking app that they were able to match with student data they pulled in to streamline the process. With the program, Beverly Schools' teachers, students, and administrators know where every device is and who it's with.
Related Reading: Apps help schools overcome COVID-19 back-to-school challenges.
2. Organize and share student data for easy collaboration.
Student data is critical to school programs. Yet when data resides in silos, it can slow everything down. Broken integrations and poor data interoperability create even more inefficiencies. Schools don't necessarily need more technology to manage — they need better ways to organize and share data.
Claris Connect — Claris' workflow automation product — plays a crucial role. Claris Connect provides the translation vehicle required for the fast, seamless flow of data. Schools can connect their existing systems, plus any apps created with FileMaker, to help educators work with speed and insight.
Related Reading: This school's custom app transforms staff workloads and student behavior.
3. Free up leadership to focus on improving student outcomes.
According to a U.S. Schools & Staffing Survey, principals spend nearly a third of their time on internal admin tasks, often extending their workload beyond 60 hours a week.* Now, imagine redirecting that effort to the high-value work school leaders do best.
With Claris FileMaker, school districts of all sizes develop unique solutions to fill the gaps and address last-mile issues associated with campus operations, student health and safety, teacher evaluations, fundraising, attendance, class scheduling, mandate compliance, and more.
With Claris Connect, schools can also develop automated workflows, which save leaders significant time when managing approvals and creating reports. Ultimately, process automation leads to more time dedicated to student outcomes and less effort juggling data entry and time-consuming manual tasks.
Related Reading: How to transform your school administration.
4. Empower students to take ownership of their progress.
The right tools empower students to take ownership of their daily tasks and progress. For example, in distance learning, it's particularly challenging to maintain student engagement. Leveraging FileMaker, a school can develop a custom app for student check-ins each day. Teachers instantly see updates on their rosters, which help monitor attendance and provide aid where needed. The added benefit? Engaging students improves their mindset and often their behavior.
Apps for creative teaching and learning can also make an impact, particularly when those apps integrate with student information system (SIS) roster data for better personalization. For example, schools can use Claris Connect to seamlessly integrate SIS data into Apple School Manager in minutes. This integration makes it drastically faster and easier for school stakeholders (administrators, teachers, students, and parents) to access a wide range of Apple technology, services, and apps — like Classroom, Schoolwork, and Shared iPad. It also ensures every student automatically receives a Managed Apple ID, so they have access to all the technology and tools they need to succeed.
Recommended Reading: Claris Connect is a no-charge technology integration for Aeries, Follet Aspen, and Skyward SIS.
Claris provides the low-code platform K-12 schools need.
Administrators often accept cumbersome tasks as par for the course. But there's a better way.
With the Claris platform, school districts can quickly implement new ideas and models that simplify management, save precious resources, and ultimately improve student outcomes.
Want more low-code ideas for K-12 schools?
Visit our education page today and find tomorrow's solutions for your school.
*https://www.edweek.org/leadership/principals-work-60-hour-weeks-study-finds/2016/11