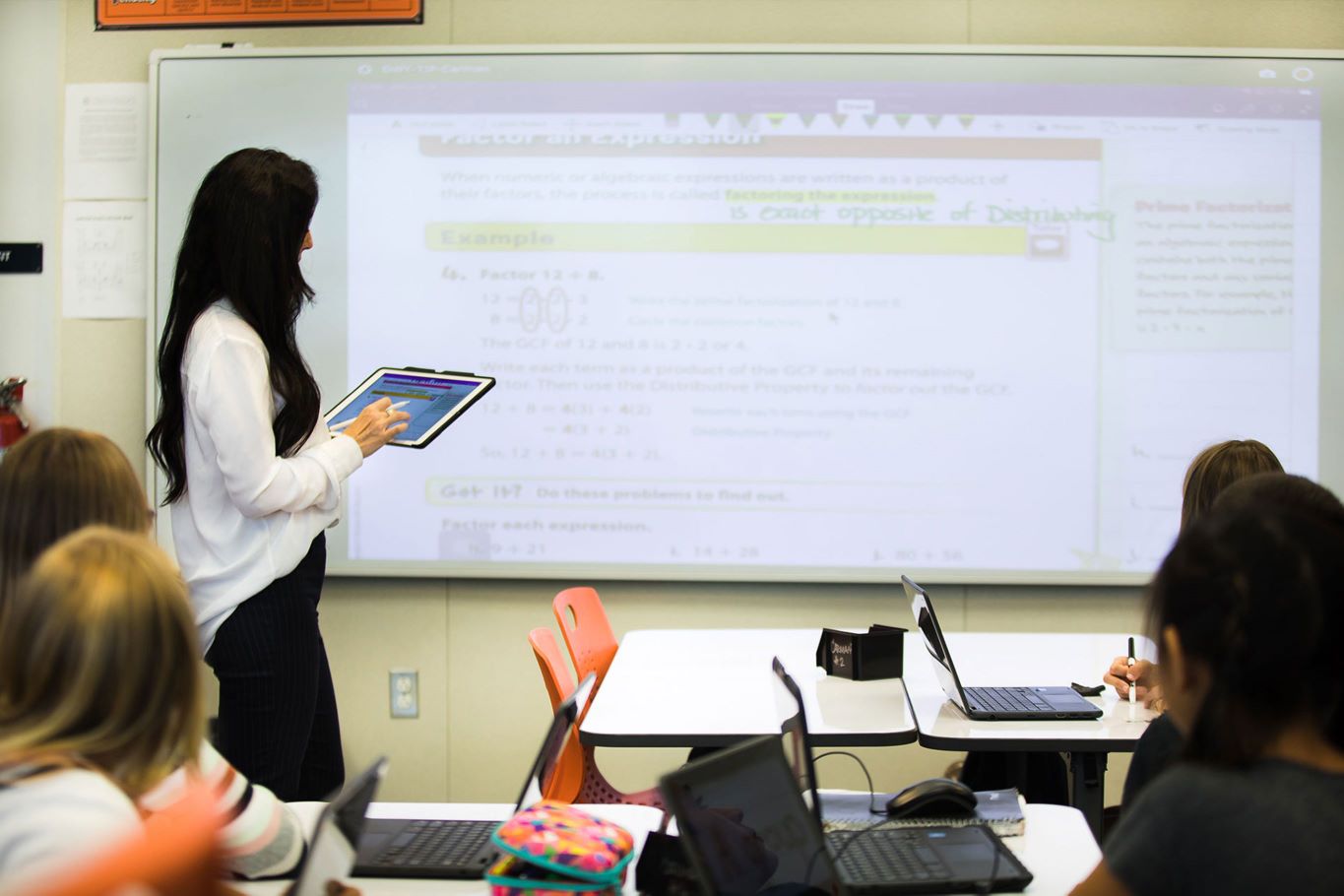 This school's Claris FileMaker custom app is transforming staff workloads and student behavior.
For several weeks a year, students at Ethel Dwyer Middle School in Huntington Beach, Calif. are obsessed with the annual all-campus track meet. Unlike their parents' track meets, complete with manual stopwatches and shiny plaques for first place, this competition has been souped up with a custom app built on the Claris FileMaker Platform.
Ethel Dwyer Middle School has been using its own custom app for a number of school operations, starting in 2012, but a track meet was what prompted the school to start using the Claris FileMaker Platform.
It began during a PTA meeting when Don Gray, a physical education teacher and technology representative, asked students' parents for help conducting data entry for the upcoming meet.
One mother in the audience, Carol Hunneyman, turned out to be a 20-year Claris FileMaker developer, and recommended the platform as a solution for better keeping track of the data. Unlike some 3rd party systems that outsource behavior monitoring and use external AI, this platform was managed in house and could be completely controlled by the schools and districts that used it.
To this day, Gray thinks the track meet is still one of the most fun ways that the school uses its app.
"Using this app to collect data for a track meet was the first time I understood the power of digital data collection," said Gray. "It wasn't just a track meet anymore. For the duration of the event, you'll hear kids talking in the hallways, looking up their results, making comparisons to previous years, discussing scores with their friends and seeing their information on their screens. It's amazing how excited and motivated they are about it."
For them, he said, seeing the live results during and right after a race is far more exciting than getting an award at the end of the meet. It motivates the kids to push themselves and work with their teams — lessons that are better applied in real time.
Relieving administrative burden
But the custom app isn't just for fun. It also reduces administrative work and frees up teachers' schedules.
For example, the process for assigning student lockers has been transformed.
"I've been a physical education teacher for more than 25 years," said P.E. teacher Stacy Wood, "and the app has enhanced my program from labor-intensive, paper-driven input to a couple of touches on the iPad or desktop to complete tasks. In the past, entering all the locker information for each student took, at a minimum, four days. With the Claris FileMaker app it can be accomplished in a single day."
Similarly, double-booking school facilities used to be a frequent problem. Now that the app manages it, it's a thing of the past, and teachers don't have to spend time scrambling for a replacement lab for their classes.
Other things like tracking and awarding service hours, assigning and managing attendance of intervention classes and sessions, conducting dance ticket sales and check-in – all take way less time and allow Gray and other teachers to turn their focus where it matters most: the students.
"Using this app to collect data for a track meet was the first time I understood the power of digital data collection."
Don Gray, P.E. Teacher, Ethel Dwyer
Transforming behavior
The custom app has also enabled teachers to more efficiently apply discipline when it's needed. Since the school integrated the app — which is used on desktops, iPads and mobile phones — consequences, i.e., detention, for negative behavior are immediate and thus more effective. The old way of writing detention slips was too cumbersome to fill out and track, so teachers just didn't use it.
But as teachers and admins at Ethel Dwyer Middle School began using their custom app to track student behavior, they noticed something: bad behavior was getting far more attention than good behavior. To remedy that, they added in positive behavior intervention and supports (PBIS), which awards students with points for demonstrating the core values of respect, ownership, acceptance and responsibility. It also enables a school-wide digital economy which extends into the community and allows them to reap the rewards of their good behavior.
In recognition of these efforts, the school has received the California PBIS (Positive Behavioral Interventions and Supports) Coalition Bronze and Silver Awards. The custom Claris FileMaker app (TSIS) is the "data collection" component required for these awards and will play a key role in reaching the next award level.
Imagining positive change
Now that they have successfully completed the first big step (PBIS) in MTSS (Multi-Tiered Systems of Support), they are prepared to continue adapting the custom app to embrace Social-Emotional Learning (SEL), as well as low academic achievement in students and further the district-wide goal in supporting MTSS and continuing to improve school climate.
After six years of successful development and adaptation with this app, from a track meet to changing school climate, Don and Carol are confident in the ability of Claris FileMaker to enable them to meet the needs of future site initiatives.