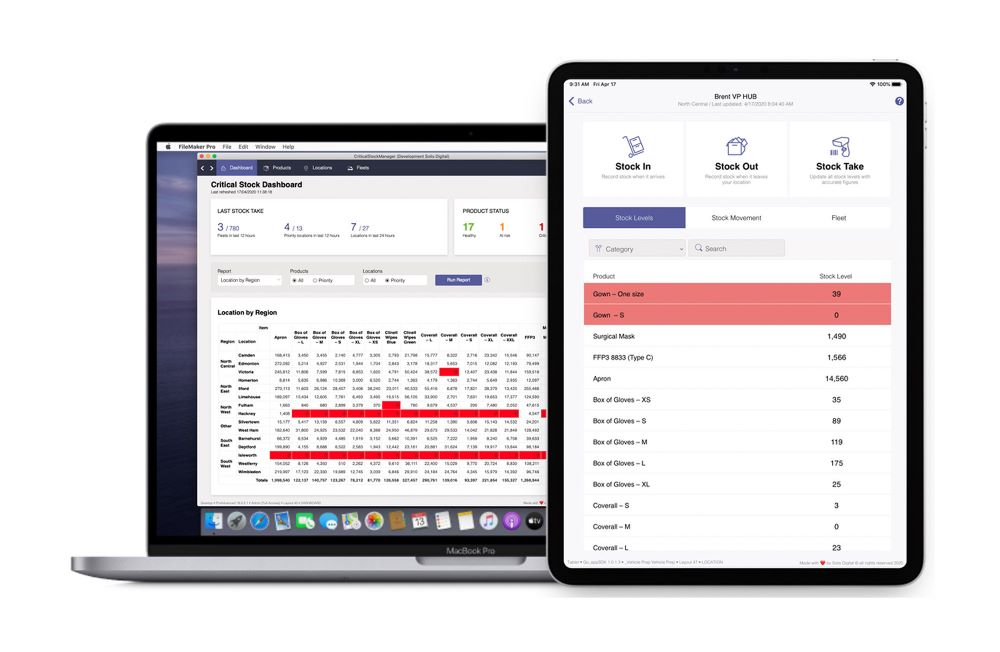 When COVID-19 struck the United Kingdom (UK), everything changed for healthcare providers. Overnight, demand for services and supplies increased exponentially. New procedures were implemented to protect patients and frontline workers. While some providers continue to feel the strain, others immediately embraced innovation, pivoting to the Claris Platform for apps to organise and mobilise their resources in record time.
Today, multiple UK providers – to include household names like London Ambulance Service and the Royal National Hospital for Rheumatic Diseases — use custom apps built on Claris FileMaker to gain critical transparency and organization along the entire healthcare blockchain. Personnel in facilities, administration, and frontline caregiving use the apps to provide streamlined reporting, easier facilities and inventory management, better patient record control, and more.
Across the UK, patients receive better, faster care thanks to FileMaker and providers' commitment to innovation. Read on to discover some of the highest-impact custom apps in action today.
ADMINISTRATIVE OPERATIONS
About the client: The Royal National Hospital for Rheumatic Diseases (RNHRD), based in Bath, England, provides expert care for patients with inflammatory joint diseases. Clinicians at the hospital provide specialist services on an inpatient, day-case, outpatient, and outreach basis for adults, children and adolescents.
Problem: The team at RNHRD always looks for ways to improve patient care. One consultant rheumatologist at the hospital, Dr. Raj Sengupta, saw an opportunity to digitalise patient data collection. Historically, patients are required to fill out health assessments on paper. But paper records carry a host of risks ranging from lost paper to infection transmission to slow record keeping and reporting.
Solution: Decent Group, a UK-based Claris Partner known for creating perfect fit software systems, began work on a custom app for the hospital. The goal? Simplify the way RHNRD tracks and reports patient progress and care.
Decent Group collaborated closely with Dr. Sengupta and the hospital's IT department, nurses, clinicians and patients to build a Rheumatoid Arthritis Health Assessment Questionnaire (HAQ) app for RHNRD's iPad devices. Thanks to the community's input, the resulting app is useful, intuitive and efficient.
Outcome: Today, patients use the app to complete the HAQ electronically before their appointments. The app assesses a patient's functional ability and allows doctors to measure progress over time. It also speeds time of service and increases data privacy.
"Collecting information electronically makes tracking patient progress and care over time particularly simple," says Dr. Sengupta. "By automating the collection and scoring process, clinicians can quickly consult a patient's history, which assists in identifying changes since their last visit."
The app also goes beyond the standards of information security and data privacy required by the National Health Service: no data is stored on the iPad devices, full hardware and software security measures are in place to ensure only authorised devices can access the system, and all data is SSL-encrypted throughout.
The iPad devices are housed in a special antibacterial case which can easily be wiped down, an important consideration for the RNHRD, who have an excellent record on infection control.
"To date we've received positive feedback from patients, nurses and clinicians using this approach," says Dr. Sengupta. "We're evaluating how this method of data collection could be potentially used in other clinics across the Trust."
INVENTORY MANAGEMENT
About the client: The London Ambulance Service (LAS) is the busiest emergency ambulance service in the U.K. Daily, they deploy hundreds of ambulances from dozens of ambulance stations to provide emergency and urgent healthcare to one of the world's most dynamic and diverse cities.
Problem: When COVID-19 hit the UK, medical first responders faced a whirlwind of accelerated emergency calls and new procedures to protect themselves from illness. Everything became harder in the pandemic. But for first responders at LAS, one thing was clear: they needed a better way to track supplies amidst increased demand.
Solution: Solis Digital, a London-based Claris Partner and the recipient of Claris' 2020 Excellence Award for Development, allocated more than half its 15-person-team to work on the project day and night. The goal? Real-time visibility and management of critical stock levels for supplies that would keep clinicians, patients, and the public at large safe such as: masks, gloves, and gowns.
The Solis team chose the Claris Platform to develop their Critical Stock Management app. Solis says Claris FileMaker is the obvious choice for complex projects that require speedy build times and a powerful backend.
Solis delivered their custom app to the ambulance service within 10 days and deployed the app to LAS's more than 4,000 iPad devices over the following two weeks.
Outcome: "The solution is complex, yet intuitive," says Stuart Crichton, Chief Clinical Information Officer at LAS. "It works well to join up data sets on multiple devices. The app has enabled us to continue to support our frontline staff: and, therefore, care for the patients of London."
Solis' Critical Stock Manger is now used by multiple ambulance services, hospitals, care homes, and government organizations to organise stock levels, track burn rates, and forecast demand.
About the client: An NHS Transfer Service organises and carries out patient transfers for hospitals throughout the UK. The service's team of doctors, nurses, and paramedics work around the clock to provide time-critical care to patients in need of escalated care, surgery, or specialist review.
Problem: Previously, no commercial software was specifically designed to support multiple transfers. The team used a combination of paper records and telephone calls between consultants and on-road teams to manage referrals. The process was time-consuming and error prone. The transfer team at knew there had to be a better way.
Solution: At the request of the NHS Trust, Solis began developing a custom app, to improve efficiency and reduce errors. The app tracks patient location and destination, captures a clinical summary and working diagnosis of each patient, stores observations and test results, and much more.
Outcome: Today, Solis' digital clinical referral management system, is fully replacing the trusts previously paper-based system. The app exceeds information security and data privacy required by the National Health Service because: no data is stored on any device, full hardware and software security measures are in place to ensure only authorised devices can access the system, and all data is SSL-encrypted throughout.
Importantly, the custom app also works seamlessly across trust iPhone and iPad devices.
Interested in learning more about low code custom app solutions for Healthcare? Check out this Claris FileMaker + Healthcare eBook here.