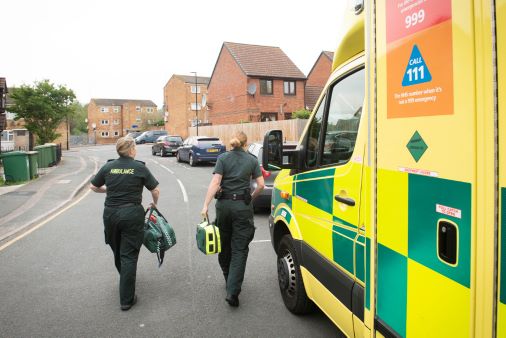 Between now and #ClarisEngage2021, you'll notice a series of monthly blogs highlighting Claris' 2020 Community and Partner Excellence Award recipients. To launch this series, we're pleased to feature Solis Digital, the recipient of Claris' 2020 Excellence Award for Development.
When COVID-19 hit the United Kingdom, medical first responders faced a whirlwind of accelerated emergency calls and new procedures to protect themselves from illness. Everything became harder in the pandemic. But for first responders at the London Ambulance Service (LAS), one thing was clear: they needed a better way to track supplies amidst increased demand. That's where Solis Digital stepped in.
"London Ambulance Service reached out to us and said, 'We have a problem tracking critical stock and we need a rapid solution...Can you help?' We didn't even think about it," says Solis Digital co-founder Jordan Watson. "We said, 'Yes, of course, we can help. That's what we're here for.'"
The following weeks were "a blur," Watson says. Solis, the recipient of Claris's 2020 Excellence Award for Development, allocated more than half its 15 team members to work on the project day and night. The goal? Real-time visibility and management of critical stock levels for supplies that would keep clinicians, patients, and the public at large safe: supplies like masks, gloves, and gowns.
The team's development go-to for their Critical Stock Management app was the Claris Platform. Watson says it's the obvious choice for complex projects that require speedy build times and a powerful backend.
"The Claris Platform is a key to our success," Watson says. "It allows us to focus on the logic and design that our end users really need, which matters when you're trying to move fast."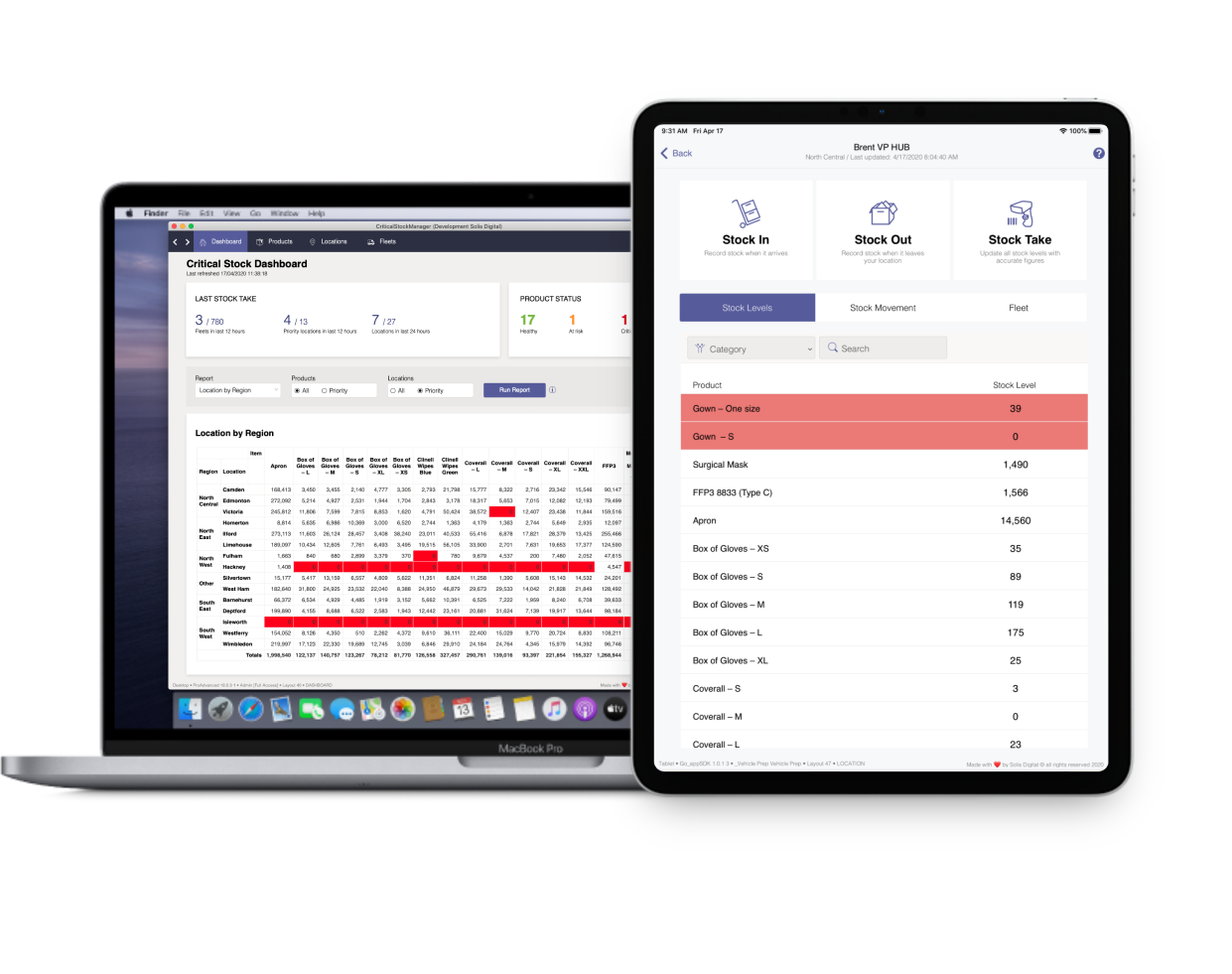 An urgent solution, delivered fast
During the intense development process, 28-year-old Watson put in a call to Claris' Robert Holsey, senior product manager for Claris FileMaker. Watson needed advice about some of the features Solis was considering.
"We reached out to Rob and said, 'Before we build this, can we have a brainstorming session about our approach?'" says Watson. Holsey hopped on the phone and hashed through questions with Solis' developers.
"He clearly can't do that for every project," Watson notes, but that availability demonstrates the kind of support Claris Partners often enjoy. "It goes to show that if we need to check in about a high-stakes project or a high-profile customer… we've got access to the product's creators," Watson says.
On a daily basis, LAS deploys hundreds of ambulances from dozens of ambulance stations. The Service had existing enterprise stock management systems, but they couldn't be changed fast enough to meet the pandemic- generated demand increase. "A new, improved system was something LAS had been planning for," Watson says. "And then COVID-19 came along and finding a solution became urgent."
Solis delivered their custom app to the ambulance service within 10 days and deployed the app to LAS's more than 4,000 iPad devices over the following two weeks.
"The solution is complex, yet intuitive," says Stuart Crichton, Chief Clinical Information Officer at LAS. "It works well to join up data sets on multiple devices. The app has enabled us to continue to support our frontline staff: and, therefore, care for the patients of London."
Solis' Critical Stock Manger is now used by multiple ambulance services, hospitals, care homes, and government organizations to organize stock levels, track burn rates, and forecast demand.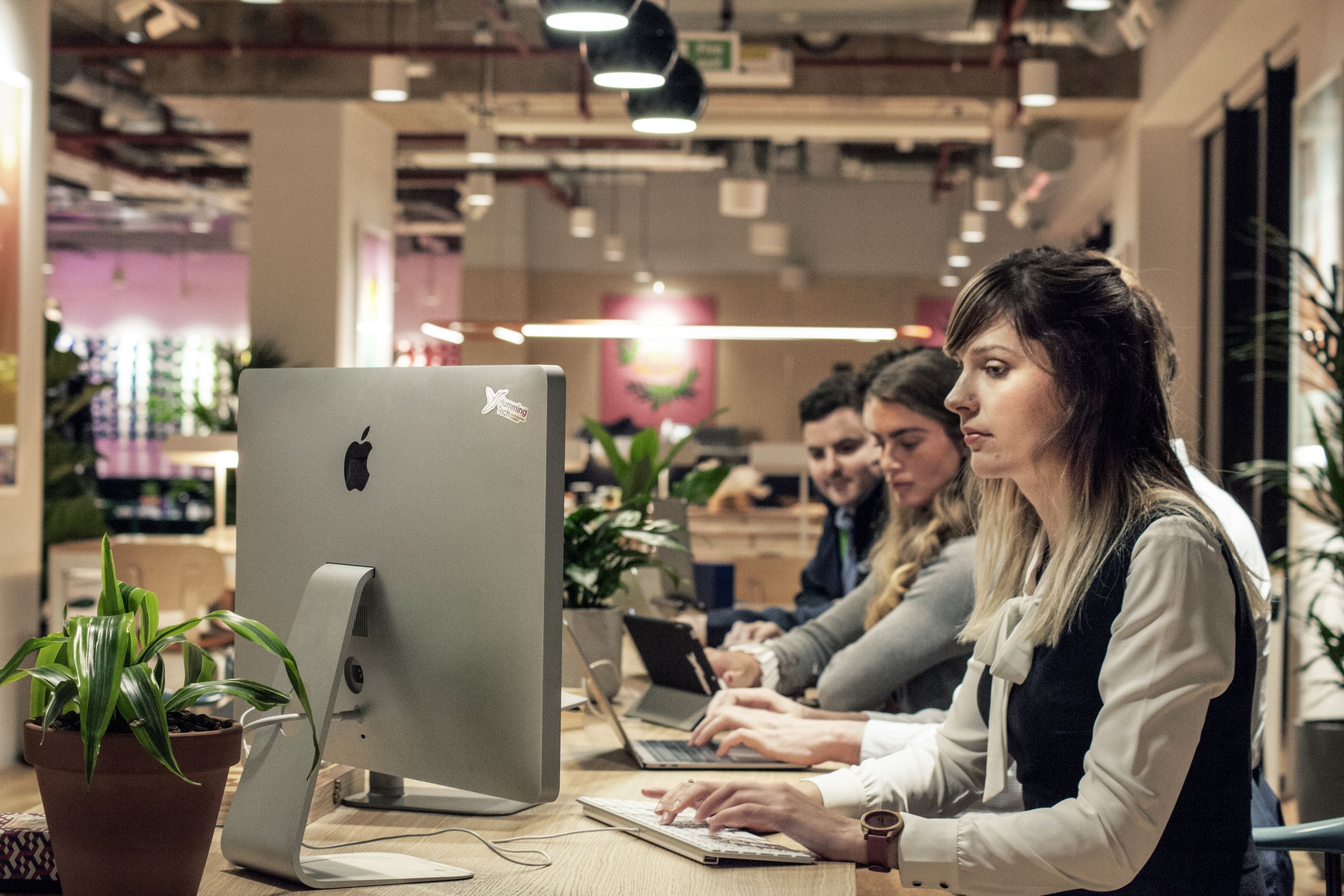 Showing clients a different way
Beyond their work with LAS, Solis Digital has created custom apps for other high-profile clients. In many cases, the jobs came by word of mouth.
"95% of our clients are referrals," Watson says, which works out because Solis doesn't have a large marketing department. So far, it doesn't need one. "We did work with the Olympic committee, and they referred us to the Paralympic committee, they referred us to the football league, and they referred us to Formula One teams," Watson says.
The company has also worked with big names in aerospace and defense, he notes.
"Again, it all comes down to doing good work for one client and then they share that message, and then another person in their sector asks us to do the same thing," Watson says. "That's how we've grown as a business."
Solis Digital prides itself on a youthful and approachable style as it suits clients up with digital transformation and workflow automation.
"We make a concerted effort to try not to speak IT language," Watson says. "Our job is to guide people through what can be a daunting process for them. We also act with humility. What we say is, 'We're not experts in every industry,' and as a result, we should be the first in the room to say, 'I'm sorry, could you go back to the beginning and explain your business again?' We're there to give an honest representation of our opinion and our abilities. That creates trusting relationships with our customers."
Solis' name means "sun" in Spanish, and it speaks to the company's mission. "We provide that moment of enlightenment and clarity for businesses where we get to show them that there is a better way for them to work," says Watson. "We want to help people step out of technical darkness."
When Solis Digital approaches a client, Watson says, they do it to give people back their time and enjoyment of the work they do. "We can show them that there's a different way," he notes. "We see their faces light up as they realize, 'Oh, you're telling me I no longer have to manually add this data to this spreadsheet every day?' And we explain, 'No, that's something we can automate for you.'"
At Solis, says Watson, there's no greater joy than making technology work for teams, instead of the other way around.
"Thanks to Claris, our work helps clients save time, money, and sometimes even lives," he notes.
Interested in learning more about low code custom app solutions for Healthcare? Check out this Claris FileMaker + Healthcare eBook here.