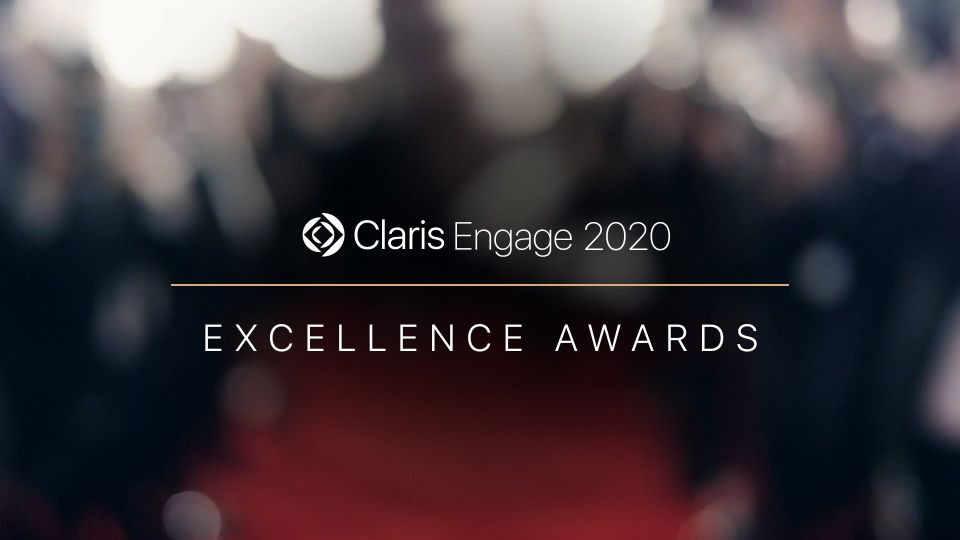 Two reasons the last day of #ClarisEngage2020 felt special to me: it marked the conclusion of our first virtual conference, and we recognized our Claris Partners and Community. Albeit different in format this year, our annual awards ceremony allows us to celebrate outstanding achievements from members of our global community. This year's winners are so deserving!
Between now and #ClarisEngage2021, you'll notice a series of monthly blogs highlighting individual category winners. To launch this celebration series, I'm thrilled to feature this year's award winners, highlight their contributions, and share a bit about the selection criteria for each.
Claris Community Excellence Awards
2020 Community Leadership: Leader of the year - Beverly Voth
This award recognizes the Claris Community member who most helps and inspires other developers. The recipient creates awareness of the Claris Platform through online or offline contributions and shares in-depth platform knowledge and expertise.
Beverly's deep knowledge of the Claris Platform and her dedication to the success of other Claris Community members made her an easy choice for this year's award. Beverly is a warm and welcoming voice to new members and veterans alike. We are grateful for her steady leadership and trusted presence.
2020 Community Leadership: Development - join::table
This award recognizes the Claris Community member who demonstrates exceptional ability to solve complex and technically challenging projects. This year, amidst the greater challenge of a global pandemic, we recognize a leadership contribution that has made significant impact in our fight against the virus.
join::table is an incredible non-profit dedicated to finding volunteer developers to work on pro bono projects and provide mentorship. When the pandemic hit, join::table quickly responded to the need. They partnered with Claris to mobilize hundreds of developers and Claris Partners to support rapid app development for frontline workers fighting the virus. The group vetted projects for workers in education, disaster response, and healthcare. They matched developer talent to organizations in need, and worked tirelessly to drive critical projects forward. We can't thank join::table enough for their important work, and are proud to recognize them for their outstanding contributions to affected communities around the world.
Claris Partner Excellence Awards
This category of awards focuses on the 6 Pillars of Excellence that all Claris Partners work toward: Develop, Design, Innovate, Educate, Advocate, and Grow.
2020 Excellence Award for Development: Solis Digital
This award recognizes the partner who demonstrates exceptional ability to solve complex and challenging projects.
As frontline healthcare workers faced critical supply shortages in the early days of COVID-19, Claris Partner Solis Digital stepped in to help track and manage personal protective equipment (PPE) like masks, gloves, and gowns. Solis Digital's solution, Critical Stock Manager, enables real-time visibility and management of PPE stock levels, increasing readiness for healthcare organizations.
2020 Excellence Award for Design: Codence, Inc.
This award recognizes the partner who best uses interactive design and appeal to create an exceptional user experience.
To mitigate risk of COVID-19 spread in the workplace, Codence's Community Health Log provides multiple-location organizations the ability to track employee travel. Their beautifully designed app, free to anyone via through Claris' COVID response effort, includes a custom heat map view of workplace outbreaks, mobile check-ins for users, a dashboard with date-based reporting, and much more. In just a few days Codence created a user-friendly app to meet pandemic-related workplace needs.
2020 Excellence Award for Innovation: SeedCode, LLC.
This award recognizes the partner who excels at innovation. Their developer tools, plug-ins, or commercial vertical apps provide exceptional customer value.
SeedCode's DayBack Calendar is a schedule-balancing app that helps users make time for what's most important. It integrates events from disparate calendars to a single source, and is a shining example of how creative problem solvers can use the Claris Platform to make the complex simple.
This award goes to the partner who best introduces, educates, and promotes adoption of the latest technologies among new or existing Claris Developers.
Productive Computing produces outstanding educational content for users of the Claris Platform via Productive Computing University. They offer dozens of high-value paid video courses for new and existing Claris Developers. We're so pleased to honor their achievements with this award.
This award recognizes the partner whose expertise and passion have notably increased awareness of Claris products and expanded the Claris Community of users and developers.
A worthy winner of this award, Soliant's advocacy activities during the past two quarters include 70 events with thousands of impressions. They are prolific content producers. They publish blogs, webinars, videos and more, and their impact is global. We're so pleased to recognize their dedication and hard work with this award.
2020 Excellence Awards for Growth: Awarded across 4 territories
This award goes to partners in each of Claris' four geographic territories. The partners listed below contributed the most revenue from their region during the past year. These partners clearly define their business growth objectives, drive revenue through direct and influenced sales of Claris Products, and consistency invest in licensing knowledge and marketing.
To all - thank you for your contributions to innovation and leadership. Your work is exceptional and inspirational to the Claris leadership team and the broader Claris Community.