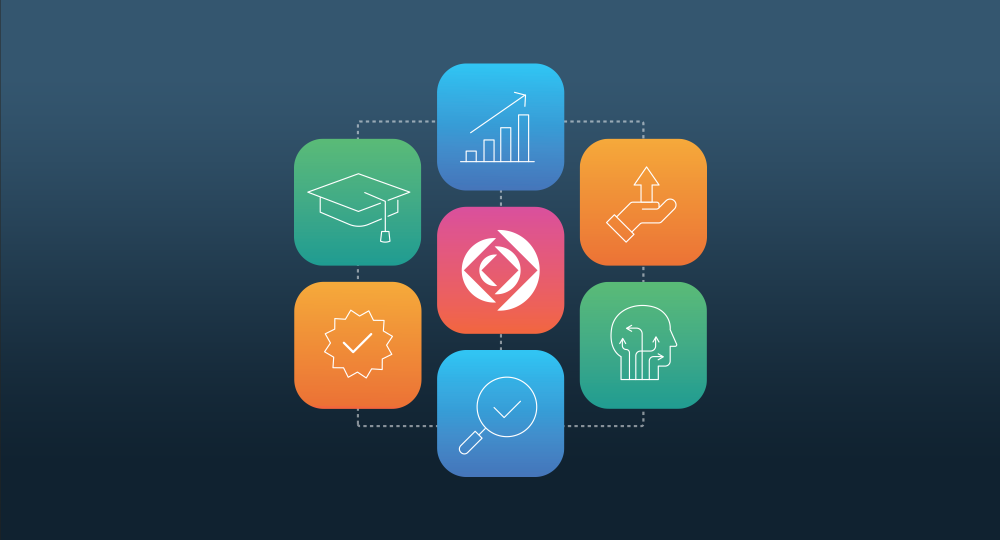 Achieving technical credentialing serves as an investment in your career and proof of development expertise. For many years, the Claris FileMaker certification program offered a single developer certification for each FileMaker version, and those who successfully passed the exam achieved the credential. However, it's time to advance the way developers earn certifications from Claris.
Modernizing the way developers earn Claris certifications.
The expanded capabilities of our platform and the diverse skills of Claris developers require modernization of Claris learning materials and credentials. That's why we're moving away from a lengthy technical exam and single certification – replacing it with certification choices that better reflect the platform as well as the expertise and interests of the Claris Community.
Now, you can earn free certifications for Claris FileMaker and other Claris technologies based on your unique skills and career goals. The tailored learning and credentialing paths are based on developer skill levels or specialty areas of expertise, which align with industry standards for awarding technology credentials.
To provide the best learning content possible, we partnered with expert trainers within the Claris Community to develop new material that supports the new credentials. Our program kicks off with these two new Claris certifications:
Claris FileMaker Pro Associate: Understand the fundamentals and demonstrate your ability to use FileMaker Pro and Claris Pro for custom app development.
Claris Connect Associate: Explore elements of using Claris Connect to integrate third-party apps and web services using flows.
Each credential includes a focused Claris Academy course, a graded assessment, and a verified digital badge credential issued by Credly. Depending on your experience level, you can take the assessment with or without going through the course material.
Ready to take the next steps toward earning the new certifications? Get started!
The two certifications above set the credentialing foundation that we'll continue to build upon, adding options for a range of specialty skills and specific product knowledge. Be on the lookout for new choices and advanced certifications that reflect your technical experience.
Show the world your Claris certifications.
Moving to digital badging provides you with a contemporary solution for displaying technology credentials. When you earn a Claris certification, we encourage you to accept and share your badge wherever you wish, such as an email signature, your LinkedIn profile, or other social channels. Printed certificates are also available, so print your certificates and display them within your worksite.
Read the new Claris certification FAQs for instructions about accepting and sharing digital badges through Credly.
If you've already earned a FileMaker certification, there's no need to retake the exam through Pearson VUE.
For those who have earned the Developer Essentials for Claris FileMaker certificate, your credential remains valid. You don't need to retake the exam to maintain this certification. This is a recognized achievement reflecting the certification for Claris FileMaker (up to version 19) issued through Pearson VUE.
Haven't yet earned the retiring FileMaker 19.0 certification? You still can.
To attain the Developer Essentials for Claris FileMaker certificate, you must take and pass the certification exam administered by Pearson VUE by December 31, 2023. After this date, the exam officially closes.
Certifications matter for developers and Claris Partners.
When it comes to advancing your professional growth and opening employment opportunities, earning certifications can help you stand out from the competition. See what Claris Partners have to say about the importance of credentialing for developers.
"As a longtime Claris Partner, we highly value developers certified through Claris since individuals instantly become credible once they have a Claris certification. We encourage all employees and candidates to obtain and maintain a certification from Claris as part of their professional growth," says Kevin Hammond, CEO of DB Services.
"Certification is the first objective for new junior employees and a must for selecting new consultants or developers at our organization. Now that Claris offers certifications on individual areas of expertise, this will generate more opportunities for the developer community," explains Bart Van Baren, business unit manager of Lesterius.
"We're excited to see the addition of a certification option for Claris Connect and think it makes sense to differentiate certification like this. We'll be pursuing a Claris Connect certification now that the exam is available," shares John Newhoff, senior partner of Portage Bay Solutions.
Seize opportunities to flex your skills as a developer.
New learning content and Claris certifications create exciting possibilities for our developer community, especially with even more credentialing opportunities to come.
Want to get started? Find all the details to help you begin today.