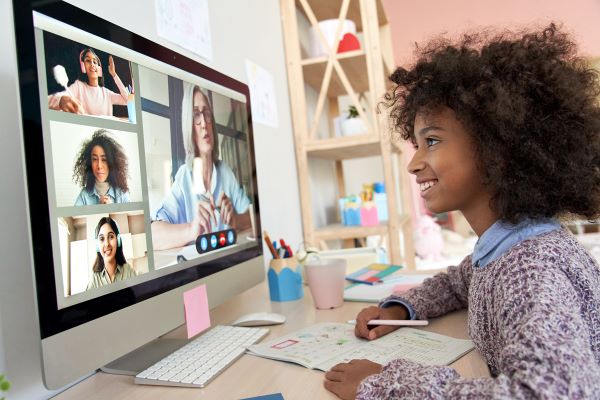 K-12 schools and libraries in the United States received exciting news in 2021. The Federal Communication Commission (FCC) announced a $7.17 billion Emergency Connectivity Fund (ECF) to help narrow the 'homework gap' by providing funding to purchase connected devices and broadband access for students, teachers, and library patrons who need them.
Yet, as with most federal funds and grants, caveats apply. In the case of the ECF Program, schools must maintain specific and detailed records — and retain data and documents for at least 10 years.
To help ease administrative burden, Claris Smart Pack is now available. This portfolio of numerous ready-made apps, includes one called ECF Records Manager from Claris Platinum Partner, iSolutions. ECF Records Manager is a turnkey application, created on the Claris platform, to automate, consolidate, and simplify record-keeping as mandated by the ECF Program.
The ECF Program requires extensive record-keeping.
The ECF Program works by providing funds to schools and libraries to reimburse them for eligible purchases. However, along with the availability of funds, the ECF Program also outlines detailed record retention rules related to the devices or equipment purchased, as well as user, usage, and service information.
The required records for the ECF Program include:
Device or equipment type
Make and model
Serial number
Person receiving an assigned device or piece of equipment
Dates the device was in service, loaned out, and returned
In the event of an audit or inspection, the ECF Program also recommends maintaining "any and all" records related to its application for funding and reimbursement payments, including but not limited to:
FCC Form 471: Request for ECF Funding
FCC Form 472: Request for Reimbursement for a Billed Entity Applicant
FCC Form 474: Request for Reimbursement - Service Provider Invoice
Invoices detailing the items purchased or ordered
Proof of payment or reimbursement
Schools and libraries must retain a myriad of records — until 2032.
While a tremendous help to close the homework gap, the ECF Program's records retention requirements might be an onerous endeavor for many schools.
Schools and libraries that receive funding also take on the burden of collecting and retaining all this information. Furthermore, the ECF Program mandates extensive record-keeping for at least 10 years from the last date of service or delivery of equipment, which could extend into the year 2032.
This level of record-keeping — often managed manually — consumes administrative resources. Plus, spreadsheets, printouts, paperclips, and filing cabinets are unreliable, non-secure ways to track and retain this critical information.
A new app offers fast, efficient, and secure record-keeping.
To comply with ECF requirements, K-12 schools and libraries need a simple way to consolidate and manage all the required information and records related to their application for funding and reimbursement payments.
As schools and libraries receive notice of approved funding, the need for a simple, one-stop-shop solution to manage devices, data, and documentation becomes more time-sensitive. With ECF Records Manager, schools and libraries get a pre-built custom solution to help ease the record-keeping burden. Plus, the app requires minimal training and time commitments by school and district staff.
How can schools use the ECF Records Manager app?
This app is designed as a one-stop-shop to easily consolidate, manage, and store the potentially voluminous information, such as device, user, and usage data as well as the documents related to ECF funding.
Here's how the ECF Records Manager works:
When leveraging out-of-the-box integration with mobile device management (MDM) technology (like Jamf Pro), device data instantly integrates into ECF Records Manager.
By automatically pulling in device data, the ECF Records Manager saves countless hours of manual data entry into numerous spreadsheets or other time-consuming tools.
Because the ECF Records Manager is built on the Claris platform, customers can also easily upload and store copies of any documentation, correspondence, and contact information.
And if the auditors arrive, you can simply export the files for them to review.
The ability to house and retrieve unlimited digital documents provides efficiency and peace of mind to everyone managing ECF Program data and assets. Additional benefits from this app include:
Centralized digital document storage: The ability to house and retrieve unlimited digital documents related to your application, purchases, and reimbursement provides efficiency throughout the 10-year retention period.
Device, equipment, and asset management: While the ECF Program outlines specific information that must be tracked, your team can use the app to manage any type of device, asset, or equipment.
Check-in and check-out functionality: The app automatically tracks each device's assignment history or users who have received various assets and presents a big-picture view in the assignment activity dashboard.
Service history log: Easily record notes about asset servicing and maintenance schedules and attached related documentation and invoices. This log also helps catalog devices that are damaged, missing, lost, or stolen, ensuring your records show the complete accounting of every device and comply with ECF Program mandates.
Even better news: The app is included in the Claris Smart Pack.
So, how can schools and libraries get the ECF Records Manager? It's one of the apps in the Claris Smart Pack! This full collection of ready-made Claris FileMaker apps is specifically designed to help K-12 schools and libraries save time and resources on manual tasks. Plus, Claris Smart Pack includes licensing for the entire Claris platform, including Claris FileMaker and Claris Connect.
Claris FileMaker lets you customize Claris Smart Pack apps to fit your needs and create new custom apps that meet unique teacher, classroom or IT requests. When there's no app for that, you can create one with FileMaker.
Claris Connect is an integration platform as a service (iPaaS) that links data from any app or system, such as student information systems (SIS) and mobile device managers (MDM), with any other application or solution. This integration creates a seamless flow of data and eliminates countless hours of manual, repetitious work.
Claris Smart Pack makes it easy to get started with templates for a variety of labor-intensive tasks – like device and user tracking, inventory management, attendance, student transportation tracking, and more.
Every Claris Smart Pack app is:
Ready to use from the time it's downloaded.
Created using scalable and secure Claris FileMaker low-code tools.
Developed and licensed by premier third-party Claris Partners – all with proven education software expertise.
Customizable, if needed, by the school or by working directly with the Claris Partner who created the application.
What other apps does the Claris Smart Pack offer?
Along with the ECF Records Manager, other apps in the collection include:
bzTransport from Beezwax: Manages all aspects of student transportation for schools and districts.
Critical Stock Management (CSM) Lite from Solis Digital: Simplifies the tracking and management of a school's inventory.
Harmonic Attendance Tracker from Harmonic: Tracks attendance for a variety of school events like field trips, sports, crafts, and more.
High5 from EduOptics: Tracks and manages student community service hours from anywhere with ease.
PhysFit PFT from EduOptics: Collects and organizes standardized physical fitness data on the playground, field, or campus.
Soliant Event Admittance from Soliant Consulting: Streamlines the check-in process for ticketed and preregistered events.
Soliant Health Questionnaire from Soliant Consulting: Easily manages daily health screenings for students and faculty to attend class or camp.
The MealID Lite from Shaman Software, LLC: Manages remote student verification and curbside meal delivery for schools.
Note: Schools and libraries that aren't receiving ECF funding can also benefit from Claris Smart Pack. The powerful apps listed above do the heavy lifting for your staff by automating manual, labor-intensive processes.
Recommended Reading:
Tap into the low-code platform that powers more than 14,000 schools.
Receiving funds from the ECF Program should be an exciting moment for your school. The ECF Records Manager helps take the burden of record-keeping off your shoulders so you can focus on your student and teacher success.
With Claris Smart Pack, your school or library gains the power and flexibility of the Claris platform, trusted by more than 14,000 schools and libraries all over the world.
To learn more and discover how your school can get the Claris Smart Pack — featuring the ECF Records Manager — download this K-12 ebook.
Want to see the ECF Records Manager app in action? Watch this video.