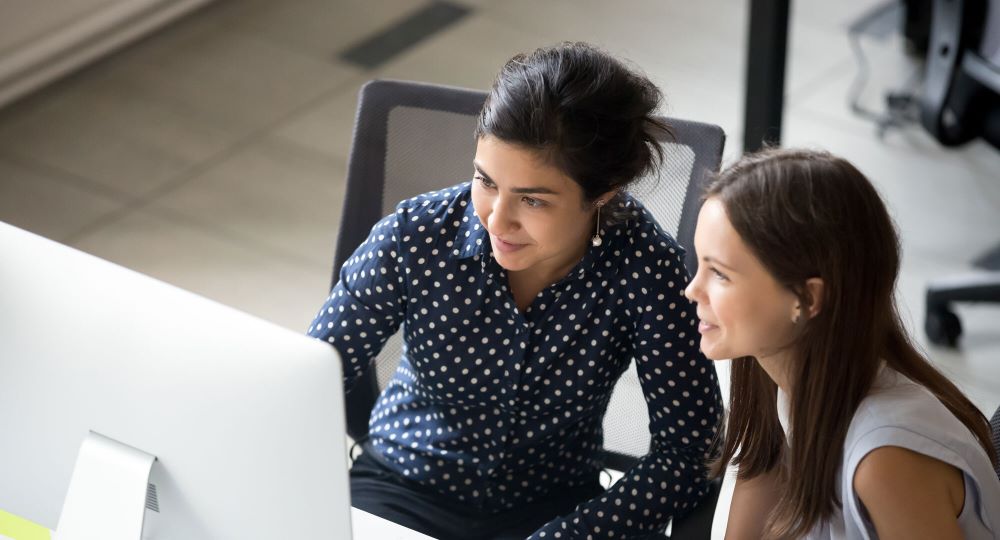 What if? What's possible? What's next? As a developer, your creative brain may be brimming with ideas about how to solve your organization's most pressing business problems. To help you flex your development muscles and make an immediate impact, check out these five ways to rev workplace innovation and raise expectations of what's possible with the Claris platform.
1. Adopt a continuous improvement mindset.
By embracing continuous improvement, you can deliver value across your organization quite rapidly, focusing on one problem at a time and then moving on to address the next challenge. With a low-code development platform in place, continuous improvement quickly becomes a best practice, allowing you to respond quickly to immediate changes in your business environment and continuously innovate to make substantial operational improvements. It's the way to deliver the quick wins that make your leadership team happy.
With an agile mindset, the first Claris app is just the start, sparking ideas for new custom applications to support more users, more business processes, and generate even more efficiency gains. Find out about this Claris domino effect in our recent blog: One Claris app leads to another, and another.
2. Be ready to tackle the next problem … and the one after that.
Developers like you are always anticipating what's next. While this involves scanning the horizon to assess needs, opportunities for rapid innovation are often within your sight — best understood and articulated by app users themselves. Continuous improvement doesn't happen in a silo. Rather it's fueled by feedback around how to work better and smarter to reach more customers and improve service delivery with custom apps.
Read our blog to discover how the extensibility of the Claris platform helps keep innovation wheels in constant motion by supporting anonymous, occasional, or guest users.
3. Extend the use of the Claris platform.
The Claris platform is designed to give a reliable foundation that helps you stand apart from your competition with tech. With low-risk tools, you have the ability to test, iterate, deploy, and scale as quickly and seamlessly as possible, you reduce friction in the app development process to bolster your organization's continuous tech improvements.
And ensure you're using the latest release. Claris FileMaker 19.5 delivers substantial improvements in performance, security, and reliability. It's our strongest release yet, strengthening FileMaker's professional-grade low code with even more extensibility, so you can add functionality to your custom apps and integrate them with anything. This release is geared for continuous improvement and to deliver value across any organization, setting you up for success with the familiar tools you use today.
Explore how upgrading to Claris FileMaker 19.5 gives you new ways to boost app functionality and support new use cases. Dive deep into the enhancements by watching this recent on-demand webinar.
4. Get inspired by other developers in the Claris Community.
When determining how to deliver better, more efficient healthcare services to the citizens of Eswatini in South Africa, The Luke Commission is a case study in continuous improvement. Ask Sam Riggleman, systems engineer with The Luke Commission, what version of Claris FileMaker he's using, and he'll reply with today's date and time. That's because Sam is constantly editing the organization's many custom apps, driven by daily feedback from his fellow team members. Sam also collaborates with developers within the Claris Community, posting questions and getting advice from community members and Claris Partners.
Learn how this Claris customer's single app evolved into broad solutions that coordinate inventory management of supplies, advance critical care responsiveness, and support a world-recognized vaccination program.
Are you a Claris Community member? If not, join our community and interact with developers, like Sam, from around the globe.
5. Work with a Claris Partner.
Claris has more than 1,400 Claris partners worldwide available to provide custom app development, consulting, and training services to help scale your apps with confidence. From introducing new workflow automation and integrations using Claris Connect, to expanding solutions with ready-to-use add-ons and extensions, you get the support needed to fuel powerful solutions with the full use of the Claris platform.
Ready to ramp up your development momentum, jump on new opportunities, and enable more innovation more often? Discover the trusted expertise of Claris Partners and how they help drive digital transformation and continuous improvement every step of the way.