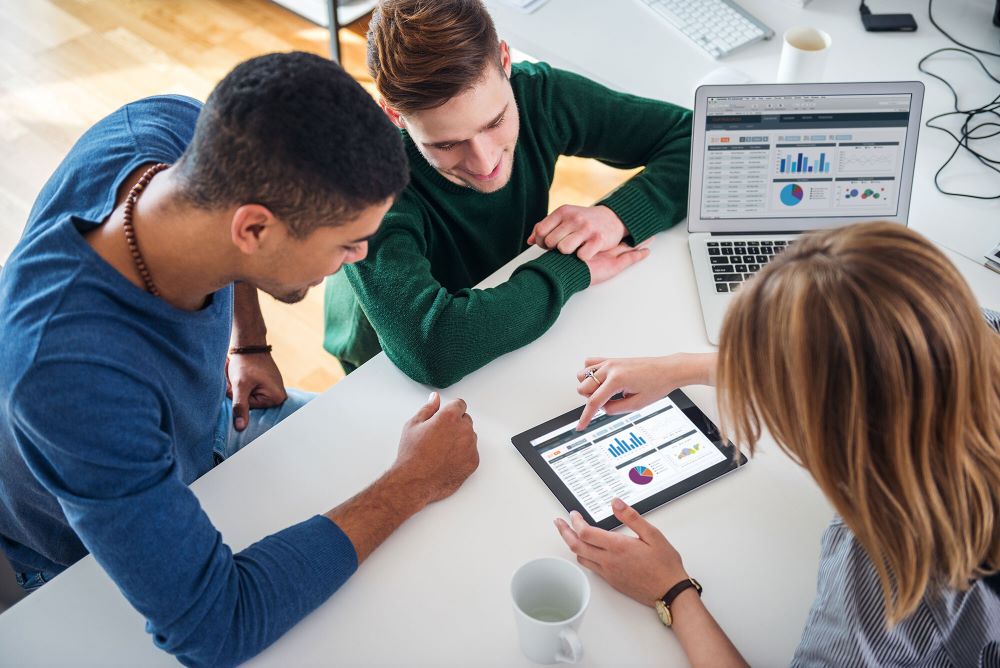 Have you heard of the Claris domino effect? One application built on the Claris platform turns into two applications, turns into three, and often more. Our community of Claris Partners see this time and time again. Discover how and why.
An efficiency launch pad.
The value of a brand-new car depreciates as soon as it's driven off the lot after purchase. The same often happens with software purchases — deployed for an initial use case only to eventually sit idle or putter into oblivion. This risk leads organizations to question technology investments, wanting visibility into how often, and how strategically, the solution will be used.
The road to developing a custom app on the Claris platform typically starts with a single business requirement, such as improving inventory management. Since off-the-shelf products may only address of portion of a company's business challenges, making the case for the initial custom app development is clear. But how do you avoid a one-and-done use case and continue to drive value?
What's needed is a development platform that lets you take control, instead of reinventing the wheel, allowing you to continuously innovate to make substantial operational improvements.
In the driver's seat for ROI.
The Claris platform is often described as being limited by only one thing: your imagination. Investing in the platform delivers endless development potential, providing opportunities — with the help and expertise of Claris Partners — to generate value again and again.
With Claris, the initial app is typically just the start — a spark that ignites ideas and additional applications to support more users, transform more business processes, and generate more efficiency gains. When the first app delivers desired results, this leads organizations to assess where else efficiency can be realized, to broaden impact, reach, and ROI.
The Claris platform makes this possible in four ways:
Develop apps quickly. Build additional app prototypes or add functionality to an existing app.
Help apps work in unison. Connect apps together and integrate with current business systems, such as Slack, Hubspot, MailChimp, Trello, and other apps you use each day.
Make your data work for you. Eliminate data and business silos by leveraging data and features from the initial app and apply to other custom apps in the company.
Share apps with others, anywhere. Broaden reach by enabling seamless app access via web browsers and mobile devices.
Two companies, dozens of applications, impressive business results.
Check out these two Claris customers who've experienced the power of the Claris platform firsthand, leaning on Claris Partners to add new business apps to support critical operations.
Elements Manufacturing, a high-end millwork manufacturer, leaned into digital transformation to more quickly get in front of potential clients. The company was already using the Claris platform to support work order processes when an aha moment led to the development of additional custom apps. With the help of Claris Platinum Partner, iSolutions, the company created a hub for customer and sales outreach with data flowing across the customer lifecycle. The result: More sales wins, more business, more revenue, and a significant return on investment. Learn more.
Kinetic Lighting, an event production company, created a custom app to streamline inventory management for its stage lighting equipment for concerts and corporate events. As the business quickly expanded, so did the use of the Claris platform. Working with Claris Partner, Angel City Data, the company broadened its solution to integrate with other web apps, automatically linking information across customer quotes, invoices, and contracts. The result: A foundation of custom apps to support a fast-growing, fast-paced business. Learn more.
Take the first — or next — step with Claris
The Claris platform is ready for your innovation, use cases, and imagination. Wherever you are on the app development journey, there is a Claris Partner within reach to help you accelerate business value and drive digital transformation.
Ready to move the throttle forward and tap into the Claris platform again, and again, and again?
Find a partner near you to get started.