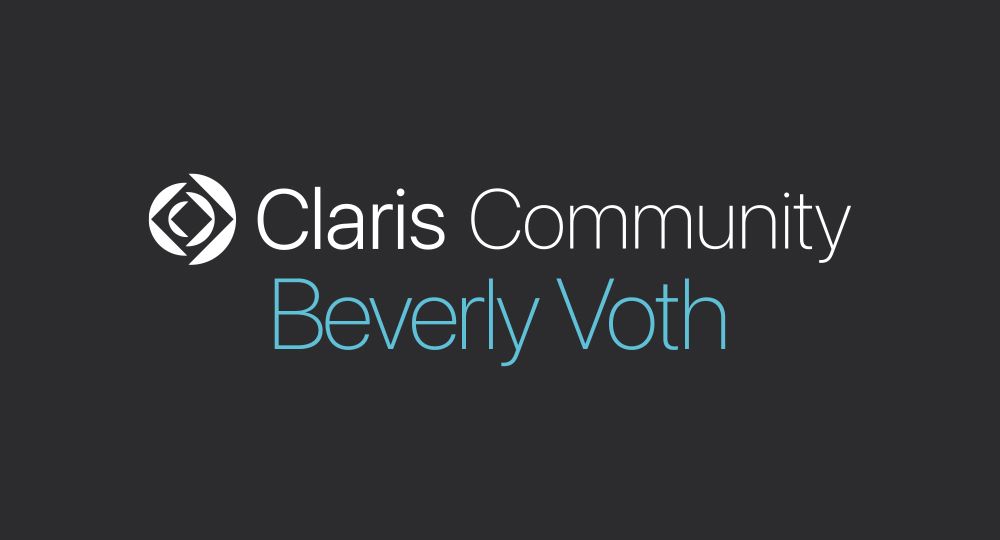 Beverly Voth (rhymes with both, not moth), is described as warm and welcoming. And we understand why. From answering questions on Claris FileMaker in online forums, to spearheading membership for Women Innovating Together – FileMaker (WITfm), she is committed to growing the Claris Community, all while running a busy consulting business and authoring books.
Chock-full of knowledge, she leads with curiosity, of the mind that new developers can teach her a thing or two. It's no wonder Beverly was selected as the Claris 2020 Community Leader of the Year.
Love at first sight.
Beverly's story with Claris goes back, way back. Working in Silicon Valley as a programmer in the 1980s, Beverly remembers when Claris was formed as a subsidiary of Apple Computer (now Apple, Inc.).
"I was there at the start, working in-house using FileMaker 2.1. I was drawn to its ease of use, allowing me to tap into my coding background and my creative side – the perfect balance," shares Beverly.
Two- and four-legged clients.
As a full-service hosting provider for more than a decade, Beverly owned and worked with many servers for websites and databases, including Microsoft SQL Server and MySQL, and she obtained deep expertise using FileMaker for web publishing. In her current role as a consultant, she creates and publishes databases using FileMaker WebDirect, allowing end users to access information via mobile devices or computers.
"The fun of consulting is the range of projects, across various industries. Recently I developed custom applications to support security training for a large enterprise, student tracking for a university, and billing processes for a veterinarian – my first four-legged clients," Beverly continues.
Helping the industry, and herself.
With an innate sense of curiosity, Beverly pushes for more than quick answers to technology questions. And if suitable answers aren't out there, she finds them herself. Point in case, a void in reference materials related to the use of XML with FileMaker and the ExecuteSQL function kicked off a mission of testing, testing, and more testing. The result, two widely read resources: "The Missing FileMaker 12 ExecuteSQL Reference," and her book, FileMaker Pro 6 Developer's Guide to XML/XSL.
"Yes, I write to help the industry, but I also do it to help myself, finding answers to my questions and compiling and presenting in a way that FileMaker users understand," adds Beverly.
A warm and welcoming vibe.
Known for being gracious and welcoming to Claris newcomers, Beverly says she gets back as much as she gives. She scans the online Claris forums in the morning, ready to provide feedback as needed, but often sees questions that inspire her to do additional research – keeping her brain active and engaged.
"Within the Claris Community, people are happy to help one another. At some point I will retire, so encouraging people to join and try new things helps the developer community grow. My advice to people is to start with a small project to test the waters and give it a go," continues Beverly.
Some see themselves in me.
Beverly has been recognized by Claris as a significant community contributor, not once but twice. Most recently chosen as the Claris 2020 Community Leader of the Year and in 2003 receiving the FileMaker Excellence Award for Outstanding Contribution to FileMaker Web Publishing Community.
"I like to imagine there are women out there who see me acknowledged as both an individual and a female. I hope they see themselves in me, inspiring them to make a difference," says Beverly.
Turn around and teach.
Beverly also serves as the membership lead for WITfm and is looking forward to returning to in-person events to connect with new members in her patented warm and welcoming way. While retirement is on the horizon, Beverly looks forward to gardening and volunteering, the lifelong learner sees a future full of continued reading and writing.
"My technical writing days are far from over because there's still much to learn from those around me. My advice: Devour information around you – buy books, read blogs, visit forums. Learn from what someone else did and how they did it. And most importantly, when you learn something new, get to know it well, then turn around teach someone else. That's how our community gets bigger and even better," Beverly concludes.
There's a growing Claris Community ready and waiting, with events and resources offered around the world to help advance your skills and share best practices – making lifelong learning accessible for all.
To learn more about our community, read this developer resources blog.