New to Claris FileMaker Pro 19.1.2, we're excited to announce the release of 9 built-in add-ons. Now, you can drag and drop your way to rich app functionality using add-ons like calendars, kanban boards, and photo galleries.
With the release of FileMaker 19, we opened the platform so developers can extend its capabilities with JavaScript to do things that weren't possible before. More importantly, developers can package those capabilities as plug and play add-ons that others can use. Together this means problem solvers at all skill levels can implement the advanced tech that matters for their modern apps — in a snap.
Several common use cases are solved with our built-in add-ons. Now, everyone can build higher quality apps faster. Developers can also re-use their favorite add-ons and focus their creativity on novel problems.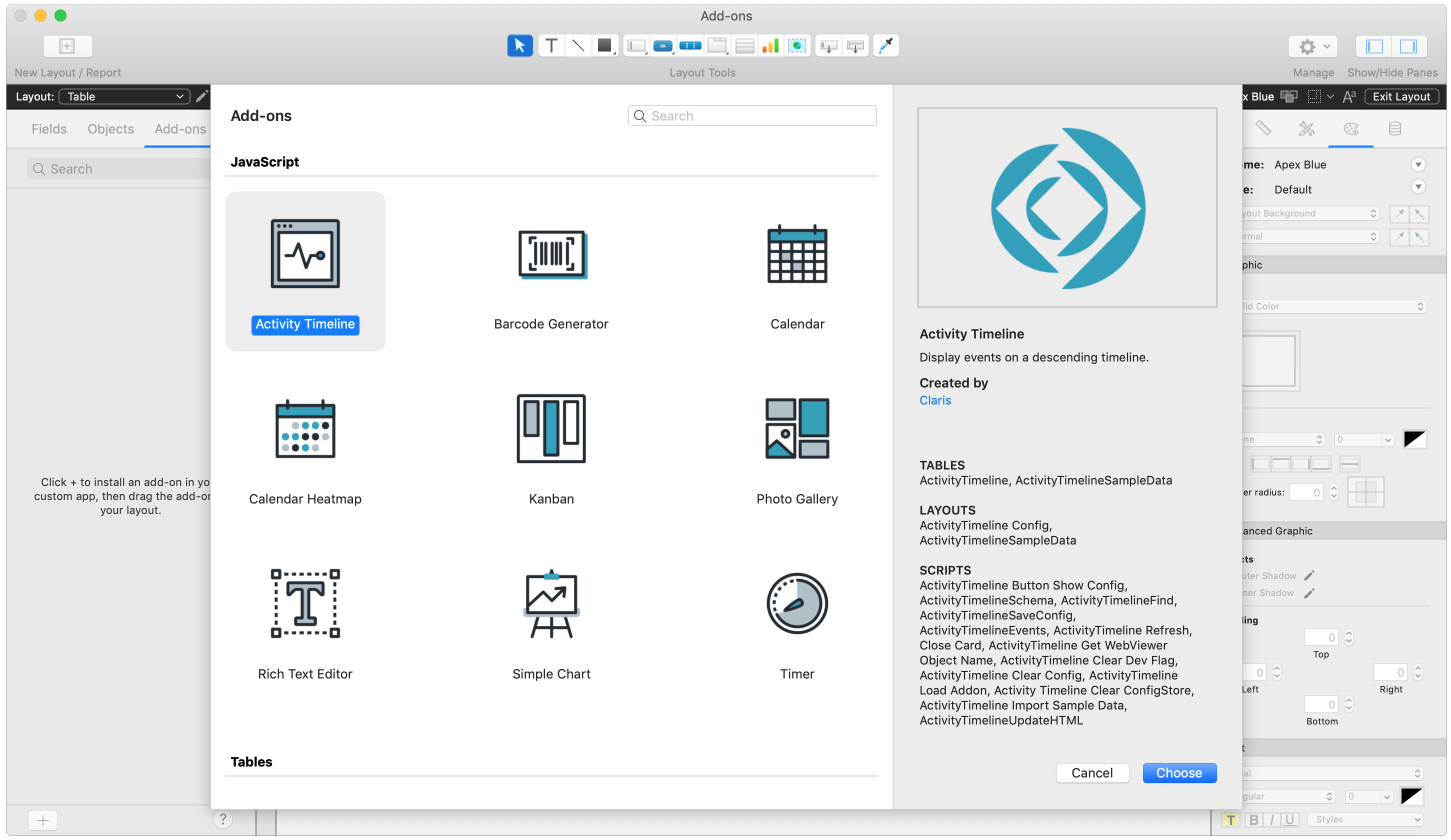 Delivering on a promise.
Earlier this year, with the release of FileMaker 19, we promised you a better way to package and share your knowledge with others. FileMaker Pro 19.1.2 delivers on that promise with a script step that allows you to package up an add-on and distribute it to others.
Our 9 new add-ons — available in your product today — leverage that ability. We hope they'll serve as an inspiration and a great example of what's possible.
See an overview of the new add-ons below, then go to Layout mode to try them out.
1. Calendar: Instantly add calendars to your apps and easily connect your existing data. View your schedule by day, week, or year. Drag and drop meetings to balance your schedule. Include event detail cards, run scripts to automate tasks, and more.
2. Calendar heatmap: Get a bird's eye view of your activities with the calendar heatmap. Colors become darker on days when more events are scheduled. More easily manage schedules, events, programs, and more.
3. Kanban board: Visually track the progress of your projects with a Kanban board to maximize your efficiency. Monitor task status columns — to do, in-progress, and done — or create your own custom columns. Display task detail in a color-coded card. Drag tasks between columns and sort task order.
4. Activity timeline: Stay on time and on track with an activity timeline. Ideal for project management, event planning, marketing campaigns, and more. Show a historical record of past activities or display upcoming tasks and events.
5. Simple chart: Make your data come to life using a chart add-on. Visually display your information in a bar, pie, doughnut, gauge, or line chart. Use animations, hover to display text, and run scripts to automate tasks.
6. Photo gallery: Easily organize all of your pictures with a photo gallery add-on. The gallery is responsive, so photo placement automatically adjusts as the screen size changes. Select an image to display customized details.
7. Barcode generator: Create and store barcodes in your custom app with the barcode generator. Track assets, manage inventory, monitor ticketed events, and more. Then use your mobile app to scan and capture barcode data.
8. Rich text editor: Use the rich text editor to format text, emails, PDFs, and more exactly the way you want. Set font size, bold, italics, and underline. Embed photos, add bulleted lists, and create hyperlinks.
9. Timer: Stay focused and boost your productivity with the timer add-on. Use the visual clock to time tasks like appointments, client projects, and presentations. Set your timer to automatically log times in your app.
Claris Marketplace: your add-on destination.
Stay tuned for more add-ons coming soon to Claris Marketplace — including industry-specific offerings.
Don't see what you're looking for? Share your idea in the Claris Community or — if you're a Claris Partner — build and share it yourself via Claris Marketplace.
And be sure to let us know what you think at Claris Community. We're always listening.