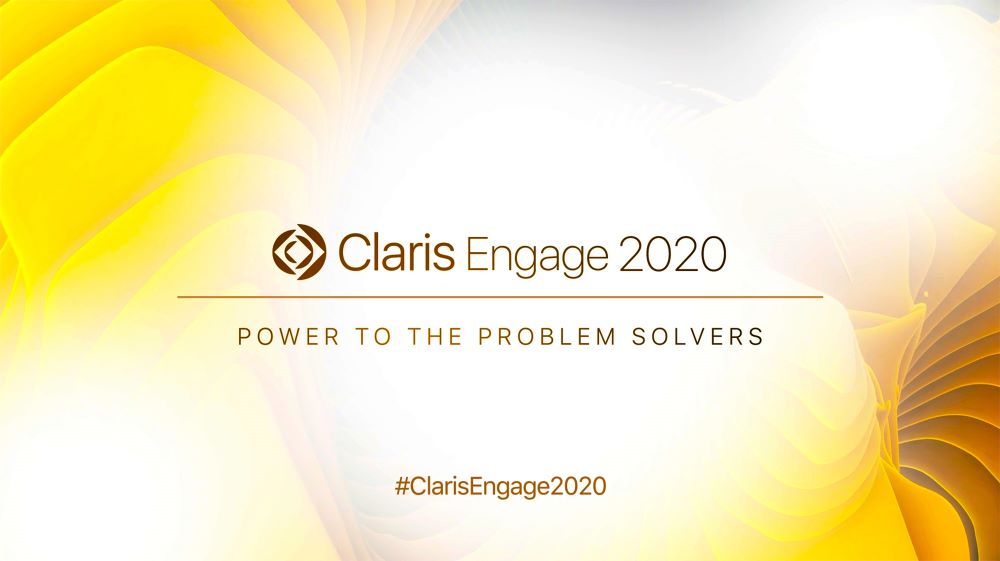 In January 2020 the Claris events team was re-imagining what our in-person conference would look like as we transitioned from FileMaker DevCon to #ClarisEngage2020. How might we evolve our beloved community-focused event into something new and even better?
Then COVID-19 hit and we had an important decision to make: cancel our 25th annual conference, postpone it until the world opened back up, or take it virtual.
We decided to pivot to a virtual event with community at the core. Key to our event would be opportunities for customers, partners, and developers to collaborate, learn, socialize, and be recognized for their achievements. We got to work and in just 9 weeks produced a virtual version of an event that normally takes 9 months to achieve.
Along the way we faced time, technology, and budget constraints (we felt it was important to deliver this event for free), but our commitment to the Claris Community kept us energized and focused. Here are four key lessons learned.
Lesson 1: If it can go wrong, it will, but we have a plan for that
As dawn broke the first morning of our conference, Hurricane Isaias barreled up the East Coast. Many of our primary hosts and panelists (along with hundreds of thousands of other East Coasters) were threatened with high winds, power outages, and flooding.
Despite the weather, the conference went off without a hitch. Thanks to our contingency plan every live-session speaker and panelist had an understudy. And although some folks - like Claris' own Ronnie Rios - participated in multiple sessions without power, we thankfully never had to tap our backup cast.
In many ways, the hurricane was a perfect metaphor for the obstacles and triumphs that accompanied Engage 2020.
During the weeks leading up to the conference, agile project management grounded our approach. We implemented daily sprint meetings and brought together dozens of key players every morning to problem solve and plan for the day ahead. Over the span of 9 weeks, our project plan blossomed to more than 340 tracked line items, and we clocked thousands of working minutes together as a team.
Our product, marketing, events, partner, and executive teams were in constant communication via internal social channels, solving for questions related to video production, virtual experiences, web events technology, and so much more. We even created a #panic-room channel to solve for real-time emergencies once the conference began.
By the time Engage arrived, not even a surprise hurricane could throw us off track.
Lesson 2: Hybrid is best
We believed the best conference experience could be achieved through a hybrid delivery of pre-recorded keynotes, live events, and on-demand technical sessions. Pre-recorded keynotes would allow us to provide attendees high production value, while live events would allow for organic exchanges and engagement with the Community's real-time questions. And the on-demand session library would continue to deliver high-value technical and business knowledge to Community members.
Of course, we needed to deliver all these sessions in a compressed schedule. With the help of the Claris Partner Council and Claris Community MVPs we whittled down a week's worth of live presentations to just two days of high-value content, then we corralled a large cast of facilitators and presenters from Claris and our Community.
Pre-recorded keynotes needed scripts, slides, and lots of rehearsal time - all conducted virtually of course. Filming happened with a pandemic-necessitated, bare-bones production crew, while post-production occurred remotely via emails, phone calls, and WebEx meetings.
Live sessions were a major logistical challenge, but we saw tremendous value and engagement in our conversation-based sessions, and whether we meet virtually or in-person next year, we plan to incorporate more of them.
If the post-event survey is any indicator, the hybrid-session approach was a hit. More than 75% of you said the event was better than expected, and some of you even said this year's conference was your favorite yet!
Lesson 3: #Social REALLY matters
During previous years' events, social engagement has been a nice-to-have. This year, it was absolutely critical to helping our global community feel connected and involved.
Across Twitter, Facebook, YouTube comments, and even Instagram you made your voices heard. You shared and answered questions, exchanged greetings and friendly banter, rekindled friendships, gave feedback, and so much more. Slack AutoEnter was an especially lively networking and discussion hub.
An unexpected bonus of this virtual event was how it connected the team at Claris. At traditional in-person events, the majority of the company stays behind and hears highlights after the fact. This year, employees logged in, watched sessions, contributed to conversations, and made connections not previously possible. Our internal communication channels were full of reflections, kudos, and excitement.
Looking forward to next year's Engage, we plan to do more real-time session streaming and to better support social conversations and community-building.
Lesson 4: We couldn't have done it without you
It turns out that producing a virtual event is much harder than we anticipated. Perhaps our biggest learning from Engage 2020 that we truly couldn't have done it without you.
A special thank you goes to the Claris Partners who presented and to all of our on-demand session speakers whose content can be found today at Claris Academy and on Claris' YouTube channel. Your contributions are so important!
Our Community truly came through in planning, execution, attendance, participation, and useful feedback.
Thank you also to everyone at Claris who made Engage 2020 possible. Your cross-functional teamwork, enthusiasm, and focus provided a sense of lightness to what could have been a much more stressful collaboration.
Thank you to all the contributors who made this year's conference a success.
We look forward to seeing you at #ClarisEngage2021!