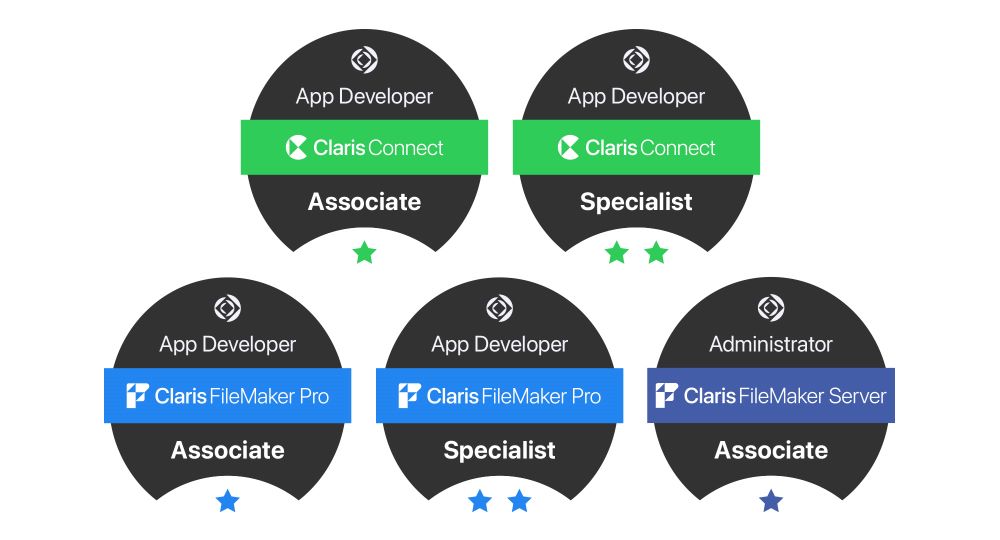 Whether you're a longtime Claris developer or new to the developer community, your skills are an asset worth nurturing. That's why we've introduced new Claris certifications to help you broaden your skill set, validate your expertise, and show the world (or at least your company, peers, and customers) the breadth of your custom app development skills.
We've changed the way you can earn Claris certifications—including Claris FileMaker certifications—for the better, partnering with expert trainers to create enhanced learning experiences that result in new credentials. As our certification program grows, you get more credentialing choices, courses based on skill levels, and a robust catalog tied to specific product topics. That's why there is no better time than the present to get a new Claris certification, or two, or three ...
Check out these five reasons why you should obtain tech credentials.
1. Increase your skills, credibility, and career options.
Certifications matter. Just ask Kevin Hammond, CEO of DB Services and Claris Platinum Partner, who encourages all employees and candidates to obtain and maintain Claris credentialing. "We highly value developers certified through Claris since individuals instantly become credible once they have a Claris certification."
Certifications confirm your commitment to professional development and show you're striving for higher levels of proficiency. And this quest for technical expertise might take your career to unexpected places, catching the eye of a new employer or expanding your role in your current job. After all, 77 percent of IT managers say that employees who hold IT credentials have a significant advantage over non-credentialed peers.*
2. Confirm your technical value.
Who doesn't want a competitive edge? Earning new certifications helps you stay up to date with the latest trends, tools, and best practices. As a result, you bring new value and credibility to your app development projects, being recognized as a savvy pro developer to make you more marketable. "To be a certified developer shows a commitment to acquiring and testing one's skills," says Wim Decorte, director of Soliant Consulting, a Claris Platinum Partner. "For our customers, it's a reassurance and way of vetting prospects by using a benchmark."
Choose from a variety of Claris certification options, including:
Claris FileMaker Pro Associate
Claris Connect Associate
Claris Connect Specialist
Claris FileMaker Pro Specialist
Claris FileMaker Server Administrator Associate
And stay tuned for more certifications as we continue to build our catalog of free materials, allowing you to validate your special skills, such as security and user experience.
3. Build a name for yourself.
Claris certifications hold weight, helping you earn respect and recognition within the industry and among peer developers, potential clients, and employers. A credential can go a long way—enhancing your confidence as a pro developer and creating demand for your skills, as confirmed by Bart van Baren, business unit manager of Lesterius, a Claris Platinum Partner. "Now that Claris offers certifications on individual areas of expertise, this can generate more opportunities for the developer community."
According to Cris Ippolite, Claris Platinum Partner and founder of iSolutions, Inc., credentialing adds value and makes a significant impression. "Preparing for certifications showcases our unwavering commitment to constant growth and improvement, fostering a mindset that thrives on staying at the forefront of technology," explains Cris. "This dedication translates into delivering unparalleled consulting services to our clients, helping them navigate the ever-evolving digital landscape with confidence in our expertise."
4. Invest in your professional growth.
Have you been thinking of deepening your technical know-how but keep pushing it down the to-do list? Maybe now is the time to carve out a little space for your own personal growth and fine-tune skills. What will help you tackle more complex development projects, including those ready and waiting in your backlog? Seize the day and dive into topics, tools, or features of interest to you.
Marc Larochelle, President/CEO of Productive Computing, Inc.—a Claris Platinum Partner—recognizes the value in making an investment in your education. "Earning a Claris developer certification not only elevates your understanding of one of the many aspects of the platform, it also significantly enhances your professional credibility and competitive edge in the evolving tech marketplace." Check out additional learning opportunities at Productive Computing University for specialized FileMaker training and resources.
5. Create an opportunity to earn bigger bucks.
While new certifications don't guarantee a pay increase, they may open the door to new career opportunities with higher pay rates. On average, certified professionals earn higher salaries than non-certified peers, with research showing that tech professionals who gained new skills and certifications received an average raise of $12,000—$13,000.**
What are you waiting for? Let us help you invest in your development skills – you're certainly worth it! Check out the Claris certification program today.
* Pearson VUE, Value of IT Certifications report, 2021
** Global Knowledge IT Skills and Salary report, 2021