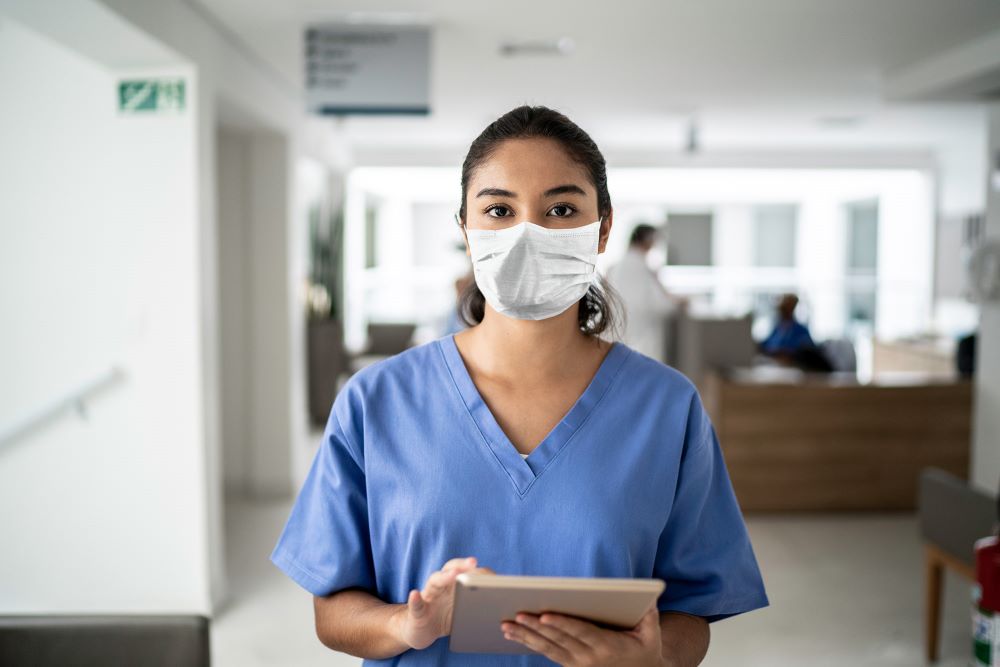 No industry felt the impact of COVID-19 more than the healthcare industry. The pandemic introduced new challenges and amplified existing vulnerabilities. A sudden increase in demand for services and supplies made healthcare providers find solutions to rapidly improve efficiency, reduce errors, optimize inventory, and improve contact management to enhance patient care and protect the health of staff.
Providers also quickly evolved how they administer care. Before the pandemic, providers slowly considered and adopted solutions for telehealth, virtual health, and digital health. However, a recent McKinsey study revealed that within the first three months of the pandemic 70-80% of primary-care consultations took place online or were conducted by phone.*
Rapidly changing market forces have greatly increased the demand for new technology solutions – those that can quickly address problems head-on. Fortunately, custom software development is more accessible than ever thanks to low-code development platforms like Claris FileMaker. These platforms empower coding professionals and amateurs alike to build custom solutions that overcome challenges found within the healthcare industry.
By 2024, Gartner predicts low-code application development will be responsible for more than 65% of all application development activity, surpassing traditional coding methods.†
Why is low code a great fit for healthcare?
Low-code development platforms were created to support business agility and enable quick digital transformation. With accelerated mandates in healthcare due to the pandemic, organizations face even more urgent needs and stress to create solutions, unfortunately coupled with less time and lower budgets.
Low code provides a visual approach to software development and makes custom application development more accessible to users with a wide range of coding skills, from beginners to experts. Claris FileMaker helps:
Core IT professionals create solutions faster with expedited development cycles. Low code allows them to work more efficiently by removing the heavy-lifting of code development and code management.
Employees outside the IT department get involved in the software creation process. These workers may be more in touch with the unique challenges of the business processes and new mandates, and a low-code platform can bring their ideas to life without having to wait for developers.
Without the need for expert coders to fully develop applications, healthcare organizations can provide some simple coding training that allows employees in other roles to contribute to development. Doctors and nurses could potentially help deploy a new workflow to get faster and more complete results, rather than waiting on a programmer with no medical background.
For more information on how healthcare organizations can get started on the right path, download our eBook Building custom healthcare apps in Claris FileMaker. You will find some best practices and advice from our experts to ensure the success of your development process.
How Claris FileMaker helps fight COVID-19 with free custom apps.
At the start of the pandemic, Claris FileMaker announced a partnership with its community of developers to quickly produce free, custom software applications for communities impacted by COVID-19. Claris is committed to supporting workers in healthcare, education, and disaster response who help mitigate the impact of the virus.
The following use cases are now available globally for those responding to the COVID-19 pandemic. Plus, the Claris Response Team can assist with software and support to get you up and running quickly. To connect with the Response Team directly, please contact sig@claris.com.
ReaCovid helps hospitals manage the availability of beds equipped with respiratory devices for COVID patients. When necessary, staff can use the app to efficiently direct patients to hospitals with a capacity for new patients.
COVID-19 Tracker allows hospitals and clinics to track people with pre-existing cardio-pulmonary conditions and are at greater risk for COVID-19 complications.
Orpheus is a comprehensive disease tracking app for health and treatment centers. Track patient information, lab results, treatments, risks, important documents, and more.
Help@Hand pairs isolated individuals or households needing extra help with local volunteers who are willing to run daily errands and obtain essentials.
NRGship helps businesses that rely on inbound and outbound shipping to maintain productivity while working remotely. This carrier-certified shipping solution allows businesses to easily rate and ship from home.
Ready to join the Claris Community and start developing custom healthcare apps? Request a free 45-day trial of Claris FileMaker.
* https://www.mckinsey.com/industries/healthcare-systems-and-services/our-insights/healthcare-in-2020-and-beyond
† https://www.gartner.com/en/documents/3956079/magic-quadrant-for-enterprise-low-code-application-platf