DB Services often trains its employees from scratch, teaching Claris FileMaker to individuals who have no development experience but lots of potential.
As the four-time recipient of the Claris 2020 Americas Growth Partner of the Year award, DB Services continues to focus on expansion. The company specializes in creating custom software that improves business workflow for its clients, including: the Oakland Athletics baseball team, Eli Lilly pharmaceuticals, Indiana University School of Medicine, Bankers Life and Casualty insurance, and the Indiana Foster Care and Adoption Association.
Currently, DB Services has 29 full-time employees based in Indiana, Ohio, Colorado, and New York, with new hires joining the team frequently. Kevin Hammond, chief executive officer at DB Services, takes pride and invests in his talented employees.
"We just hire good people" he says, "not necessarily people who are already developers. I look for new hires who are friendly, good at communicating, and interested in collaborating with each other through good times and hard times. People who want to solve problems and develop workplace innovation."
Kevin remembers his own early days as a developer.
While studying business in college, he began building websites and database programs. "One of the most memorable projects was helping my brother create an online catalogue of video tapes that was used for trading and selling videos. My brother thought that site was the best one for trading," he recalls.
Kevin discovered the Claris FileMaker in 2000, while working at a small company in his first job developing custom apps for cellphone service providers. "I was amazed how rapidly you could build solutions with low code and produce results for customers so quickly. At that time, very few development platforms were capable of that," he explains.
Sowing seeds that grow into trees.
Now, Kevin looks for new hires with the same kind of enthusiasm and eagerness that he had years ago. In fact, DB Services often trains people from scratch, teaching the ins and outs of FileMaker to people who have zero development experience but lots of potential.
"The demand for developers is so high at the moment," he says. "Good developers aren't falling off trees, right? So we plant our own seedlings, and we grow our own trees, which is especially critical for a growth company like ours. Because if a company is expanding 20% a year, and there's at least 15% turnover, you end up hiring many people each year – and at DB Services, they really need to be the right people."
Once hired, every employee receives a professional development plan. "We do the classic stuff, like training in project management, training in software development, and all that," Kevin explains. "But ultimately our goal is to craft the job to suit each new hire's strengths, which we've found creates tremendous outcomes."
Digging deep so custom solutions spring to life.
DB Services uses a similar philosophy when helping its clients to conceptualize a custom app that best suits business needs. "When the outcome is aligned with a company's mission and purpose, that's when DB Services can do amazing things," Kevin says. "We try to get down to the core of their organization, all the way down to the department level. And when we do that type of digging, great solutions spring to life. We can create a custom app that will forever improve the organization, possibly all the way into the next generation of their business."
That's the kind of work DB Services has done with businesses of all sizes, particularly small and medium businesses (SMBs) like Mesa Garden, a New Mexico nursery that sells cacti, succulent plants, and tens of thousands of rare seeds to customers around the globe. During the initial meeting with DB Services, the Mesa Garden owners explained they were at their wits end – spending the bulk of their days to process orders by hand and struggling to update their website when items sold out. So DB Services built Mesa Garden a new ecommerce website, powered by WooCommerce, and used FileMaker to create an app for inventory management.
Today, orders synch automatically to the custom app. With their new app, Mesa's owners can quickly manage inventory by updating or removing any of their thousands of products. It's now easy to know ahead of time if something is about to sell out. Plus, the company can process orders 5 times faster than before. And for the first time in the company's 4-decade history, the owners have real-time analytics on the price points and value of its rare seeds. These digital innovations have allowed Mesa Gardens to rapidly thrive.
Growing a partnership with Claris.
Above all else, DB Services values teamwork and trust, and the company finds that value reflected in its relationship with Claris. According to Kevin, his team loves getting early access to webinars and knowing about new Claris features. But what's even better is the care and attention that Claris offers to DB Services and other partners.
"Sometimes I joke with the Claris team that their company does way too much for its partners. But honestly, I appreciate it so much. Claris gives so much effort and extra attention to its partners," Kevin praises. "Claris treats us like we're an extension of the company – they're always working to improve partner communications, giving us feedback, and caring about the work we do."
With his team and Claris working toward the same goals, Kevin knows DB Services will make it through these uncertain times.
"With social distancing guidelines in mind, DB Services recently reconfigured our Indianapolis office, so we could open it back up for employees who want to physically be there," he says. "And it's made a huge difference for individuals who needed to get back to the office and reconnect in person."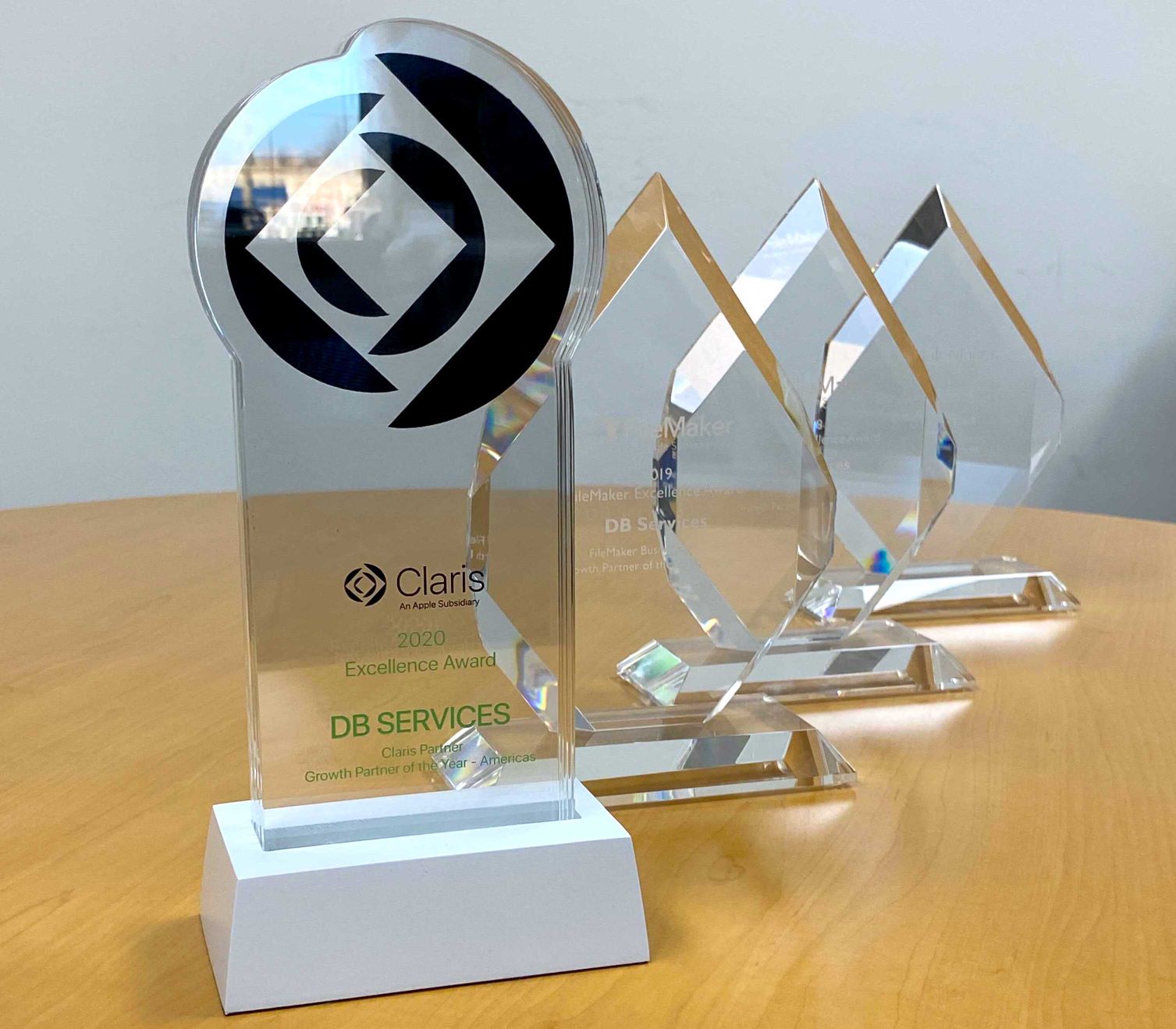 Kevin looks forward to the day when his entire team can be back together, again. "It almost makes me cry when I think about winning the Claris Americas Growth Partner of the Year Award for the third time in 2019. There were 10 or 12 of the DB team members up on the stage to receive that award together – it's one of those treasured moments that makes this business and the Claris Community feel like home."
Need help with your next project? Find a Claris Partner here.