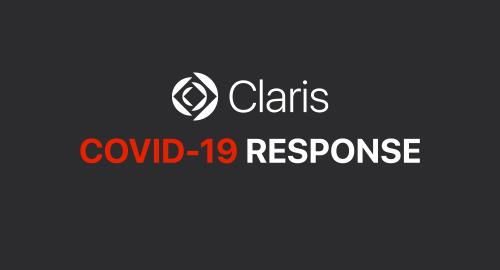 Claris' volunteer developers continue to create free, custom apps to combat COVID-19.
It's been a year since COVID-19 changed life as we knew it, and nearly as long since Claris assembled a team to address the disruptions experienced by businesses and communities around the globe. Today, Claris continues to help find solutions in this ever-changing landscape through our Claris COVID-19 Response Team.
From the start of the pandemic, the Claris COVID-19 Response Team (CCRT) rapidly formed and produced custom software applications. Those applications addressed the immediate impacts on people working in healthcare, education, nonprofit, and disaster mitigation, among others.
Hundreds of CCRT volunteers donated thousands of hours to develop dozens of free custom apps, partnering with Claris for support in hosting, development, extended software trial licenses, and prototyping. Now, a year later, this dedicated response team still responds to the crisis.
"The Claris Community joined us in the earliest days of the pandemic to volunteer for the Claris Covid Response Team," says Julie Sigfrinius, director of Global Partners. "This team has the drive, skills and — with the Claris platform — the technology to solve urgent problems. I'm grateful and humbled by this amazing community and their solutions, from locating citywide personal protective equipment (PPE) to vaccine management."
Solutions change as conditions change.
Initially, requests made to the CCRT focused on tracking the most direct effects of the virus. Now, inquiries show an urgent need for solutions that monitor vaccines and test results. In 2021, businesses have asked for assistance with documenting and verifying the COVID tests and results taken by employees.
Yet needs for virus tracking still persist. Recently, a military organization asked the CCRT to develop a custom application to manage emergency COVID-19 patient flow in a hospital.
Eliminating big piles of paper.
Some of the Claris Partners who have created emerging CCRT solutions are the employees at Skeleton Key. They recently developed Visit Tracker to help businesses with contact tracing.
Skeleton Key president and principal developer, Mark Richman, saw a need to develop Visit Tracker in the early weeks of the pandemic. He watched businesses and organizations in St. Louis scramble to implement contact tracing and struggle with stopgap solutions that were haphazard, often changing, paper-based, and difficult to manage.
"Out in my community, I couldn't believe all the paper and clipboards that were being used. And the nature of our business is to ask questions when you see big piles of paper," Mark states. So he started talking to business owners and found that most were juggling several major concerns.
"First, business owners were trying to figure out which government agency to follow. That's because many businesses had different or even conflicting governmental requirements, especially those that had multiple locations in different regions. I found some of the staff were just asking questions in a way that made the data easier to handle — such as asking all yes or all no questions. Other businesses were deciding what to ask from a brand perspective. I noticed, for instance, that at a salon, all the questions were yes questions, whereas my gym didn't put as much thought into it," Mark explains.
Most questions were yes and no, plus the occasional question about body temperature. "We realized that it didn't matter what the questions were — that it was up to the business to interpret what the answers meant," Mark recalls. "Plus, these groups were dedicating staff to this effort. It wasn't a trivial thing to do these questionnaires, that not only used staff time but asked people to wait in line before entering a business."
When asked, most managers told Mark that if exposure occurred at their location, they'd have to sort through a file cabinet full of paperwork in order to contact trace.
"It felt very inefficient to me, from a data standpoint," Mark exclaims. "I wanted those managers to have something better."
A solution to contact trace now and improve efficiency afterward.
For Mark and Skeleton Key,  Visit Tracker  is the contract tracing solution for numerous businesses, and it's an application that will be useful long after the pandemic ends. The custom app handles the process of checking in visitors — by appointment or as walk-ins — while storing visitor logs and data in an easy-to-use, secure way.
 Visit Tracker allows app users to easily add, delete, reorder, or change questions at any time. Information fields accommodate both yes and no questions as well as temperature check data. Plus, users benefit from the simple intuitive interface that can be hosted on a web browser or run standalone on an iOS device, Mac, or PC. When in use, this app lets customers answer contact tracing questions before arriving at a business, which reduces wait times and cuts down at lines at the door.
For COVID-19 contact tracing, businesses can search in Visit Tracker by date and time to see everyone who visited the location in given time period. And long after the pandemic ends, Mark sees Visit Tracker easily used to keep track of visitors and clients who may be repeat customers.
"The Skeleton Key team realized that if we developed this app simply enough, it could be used for beyond the crisis we're in. That's why this version of Visit Tracker as a basic, flexible tool to keep track of attendance at a business or an event, so you know who's coming and going," Mark adds.
Need help with a COVID-19-related problem? Please contact the Claris COVID-19 Response Team.