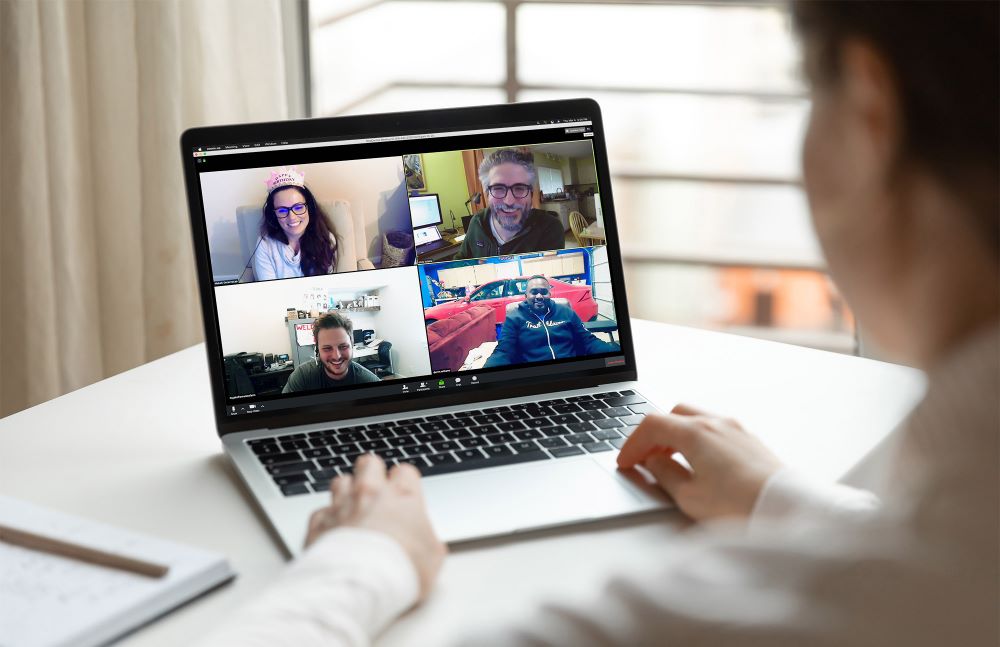 Claris FileMaker and philanthropy – the perfect match at join::table.
When crises hit, systems break, and creative solutions need resources, people want to help. That's where join::table comes in, a non-profit that connects Claris developers with worthy causes.
In 2019, join::table founders Makah Encarnacao and Jonathan Nicoletti met through a mutual connection, Molly Connolly, because of their shared passion for helping nonprofits through tech. Together they decided to launch join::table, but felt incomplete and unprepared. Shortly thereafter, Chris Kubica met Makah through Women Innovating Together (WITfm) — an organization that provides community events, mentoring opportunities, training, scholarships, networking, and other resources for female developers who are part of the Claris Community. Makah led WITfm's Educational Outreach Committee and Chris offered time as a mentor. The two chatted and realized they shared a vision to leverage the skills and talents of Claris developers who wanted to volunteer their time to do good in the world.
"We both happened to have the same idea," Makah says. "So we knew it was meant to be." The nonprofit added Chris as a founder, and in 2019, join::table launched.
Solving COVID-19 challenges together.
When the pandemic began in 2020, join::table teamed up with Claris to launch the Claris COVID-19 Response Team. Together, they matched developers with organizations and businesses that needed immediate help. To date, that collaboration has resulted in at least 20 critical, high-impact custom apps, most created for healthcare, education, and disaster response.
And as the months passed, join::table experienced changes and shifts in what its charitable recipients need from their apps.
"At the beginning of the pandemic, the requested apps dealt with identifying and addressing COVID — like a decision tree triaging of sick patients in a hospital in Belgium, and giving telemedicine text support to the elderly in the US who were contemplating whether or not to go to the hospital," Chris explains. "Now organizations are asking our assistance with apps that help people normalize their lives. Local stores want to reopen but are tasked with employee temperature checks and how to handle contact tracing. Apartment managers want to keep track of cleaning protocols — that sort of thing."
In March 2020, Claris announced its partnership with join::table in forming the Claris Covid Response Team (CCRT). In August 2020, join::table received the Claris Community Leadership Award for its work with the CCRT. As news spread about its initiatives, the join::table team watched volunteer sign-ups skyrocket.
"Within 24 hours of receiving the award, our volunteer base doubled! Then it kept going up more and more. The visibility from our Claris award gave us a catapult," Chris exclaims. "The last time I checked, we had 227 volunteers who pledged almost 7,000 hours of pro-bono development in a month."
Along with development hours, join::table's volunteers donated existing apps and solutions into a communal code repository.
"Someone may come to us thinking they need a custom app built from scratch, and we're happy to respond that the app already exists, just tweak it, and make it your own. There's no need to keep reinventing wheels with every request. The faster we can get these apps out, the better," Makah says.
App efficiency for an orphanage in need.
Along with the more recent pandemic-related needs, join::table has also helped a number causes outside the healthcare field. One is the orphanage nonprofit, Abraham Kriel Bombanani, which provides a home, meals, and other programs for abandoned, abused, HIV-positive, and homeless children in Johannesburg, South Africa. When Abraham Kriel Bambanani approached join::table, it already had an app to track clothes, food, and other items that were coming into the orphanage through donations and purchases. But the app was so outdated that it couldn't print data reports anymore and it predated the availability of a mouse for navigation.
So the developers volunteering with join::table began creating a new app to run on desktop and iPad devices. The custom app tracks inventory and requests. For example, orphanage staff use the app to start a new request when a new child is admitted to the residential program and needs new clothing. From there, the app sends a request to the general administrator, who checks inventory and informs the warehouse manager to fulfill the request. The app is also used to purchase new clothing, if needed, and tracks donated clothing.
"At the end of the year, the administrators can print out a report of what they used," Chris states. "One of the things the orphanage also wanted was to track the life of each donated clothing item. They want to be able to say, 'Johnny had this donated jacket from this date to this date, and then it went to Michael.' Telling those stories with the help of the custom app is a way the orphanage can express gratitude to their donors."
How a low-code app makes a big difference.
Other custom apps created through the join::table initiative help provide tools for important issues that also predate the COVID-19 pandemic. One volunteer developer is working on an app tailored to help children with Down syndrome expand their vocabulary.
Makah states, "A member of the Claris Community came to us and said, 'I've seen in my volunteer work that children with Down syndrome learn better with visual cues than words.' He asked us to make a very simple app that's essentially flashcards, with an image and word paired together."
The app allows for customization using personal photos labelled for each individual learner.
"The app user can take a picture of the child's grandfather, label it, and create a flashcard. Then, using app on an iPad device, say, 'This is grandpa,' while showing the child the image," Makah adds. "So far, the children who have used it love it and love the technology. And I can see us expanding the app to something that allows the kids to drag those flashcard images into boxes and construct sentences to say something like, 'I want ice cream.'"
"Claris FileMaker is especially great for an app like this," Makah declares, "because each child with Down syndrome might need something different."
"Using FileMaker, we can swap things in and out and customize the app for each child as opposed to having a static book to learn from," Makah adds.
More music for our world.
On another project organized by join::table, volunteer developers created a custom app to help the Music Maker Relief Foundation — a nonprofit that provides management, representation, and job opportunities to economically disadvantaged musicians in the American South by advocating for them, putting their music on apps like Spotify, and booking gigs for them.
Opening the tech doors.
As join::table grows, it's also organizing a new branch called diversi::table. This initiative will work toward increasing diversity in tech with educational programs, matchmaking between interns and companies, and helping people from underrepresented groups who want to advance or make a career in development.
"Tech is such a great industry because it's only going to grow. And we want to help people use Claris FileMaker to improve job opportunities," Makah says.
Kudos to you, join::table!
Join us in giving join::table and its awesome team of volunteer developers a heartfelt round of applause. If you're interested in knowing more about join::table or perhaps volunteering, learn more here.
Need help with your next project? Find a Claris Partner here.