SeedCode CEO John Sindelar didn't expect to become a Claris Developer.
"I was a painter in the early 90s," he exclaims. "I did big, abstract, improvisational stuff, inspired by European abstractionism of the 1970s."
But as a burgeoning visual artist, John needed slides to promote his work. That's how, in the late 1980s, he first encountered the Claris Platform.
"Back then, if you wanted to get an art show at a gallery, you had to send slides of your work," John says. "To do that you had to get slides made, which was more complicated than it sounds."
Using Claris FileMaker, John could develop professional slides more efficiently than ever before. Drawn to the flexibility and power of the product, he started to imagine what else he could create.
In 2003, John co-founded SeedCode, a development company that helps businesses build the software they've always wanted, with a focus on innovative calendars and dynamic maps.
Today, SeedCode has 9 employees who work remotely from their dream locations around the world: Washington, Oregon, Colorado, and South Africa, to name a few.
A new kind of calendar.
Recently, John's artistic instincts led him to tackle a challenge many companies take for granted: the calendar.
"I think most people look at their calendar and see it as a map of their obligations," John states. "Instead, it can be a tool to stake out freedom. So at SeedCode, we rethought the calendar: week view, month view ... all of it."
The result is SeedCode's main product, DayBack, which earned John's company the Claris 2020 Excellence Award for Innovation.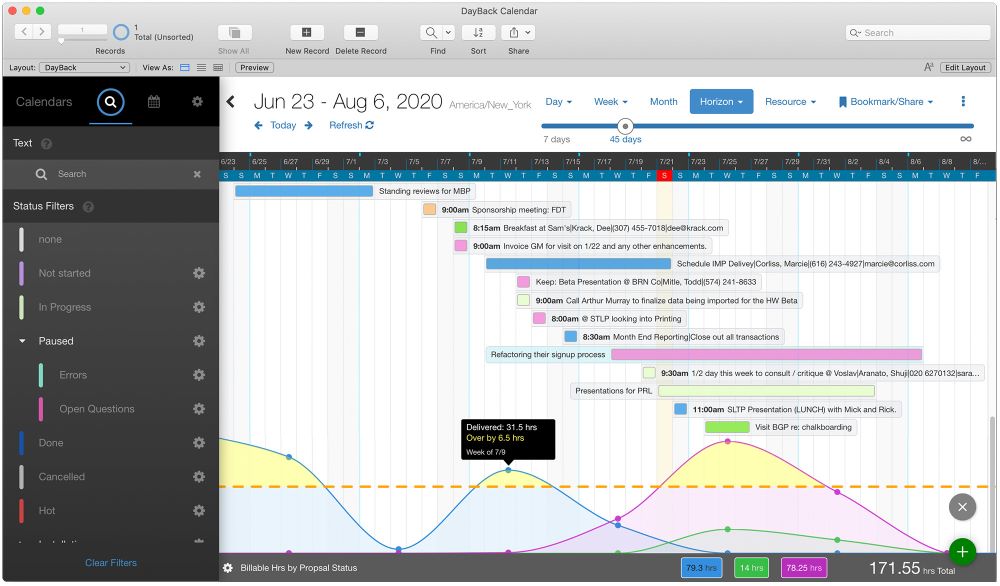 DayBack is a calendar that maps resources and obligations, both professional and personal. Built with FileMaker, the custom app helps businesses plan ahead, then look back and analyze what worked and what didn't.
"If you want to make an app look amazing, FileMaker is the tool," Sindelar adds. "FileMaker gives you a speed and control you can't get anywhere else, so you can quickly create a beautiful, meaningful presentation of data."
SeedCode's calendar clients include Parvin Paving & Sealing, a 45-year-old, family-owned business in Mechanicsburg, Pennsylvania. Parvin uses the DayBack app to track the scheduling and use of its specialists, trucks, and conference rooms. The company's real-time view into daily operations empowers employees to respond quickly to customer requests, saves time reporting, and easily matches the right asset to the right task.
Other DayBack loyalists include attorney offices, dispatch services, and any business with "an expensive calendar problem," John adds.
"Those companies need a better way to schedule anything in the business that's competing for time," he notes. "In a sales company, for instance, it's the sales team. They can only do so many appointments in a day. And if they get overbooked or under-allocated, that's a problem. So SeedCode serves a lot of field service companies, manufacturing companies as well as medical and sales scheduling firms."
John affirms FileMaker is central to DayBack's success.
"We created the DayBack app that's difficult to make from scratch," he says. "However, once the app's made, it's pretty easy to customize, thanks to FileMaker. Developers love the low-code app because they don't have to do all the hard work to build it. Once developed, developers can customize and expand the app, making it something great for their customers."
A partner and a voice for developers.
SeedCode is also a Claris Partner, though not a typical one, according to John. "We became a Claris Partner a long time ago with the hope of two things. First, we wanted more visibility to potential customers. Second, we wanted to build closer relationships with the engineers and Product employees at Claris, so we know where the platform is going. To this day, that's one of the most rewarding parts of the partnership — those relationships with the Claris team."
Today, SeedCode is part of the Claris Partner Council, a group that meets regularly with Claris leadership to collaborate and exchange ideas.
Many years ago, John set out to be an artist. Today, although his medium is different, he still enjoys a profound sense of creativity working with the Claris Platform.
"You'll find a lot of Claris Developers who are artists, woodworkers, painters, graphic designers, and musicians," he says. "It's a platform that rewards tinkering and experimental development. While so many artists produce work for an imaginary audience, we get the pleasure of directly helping our customers."
Need help with your next project? Find a Claris Partner here.