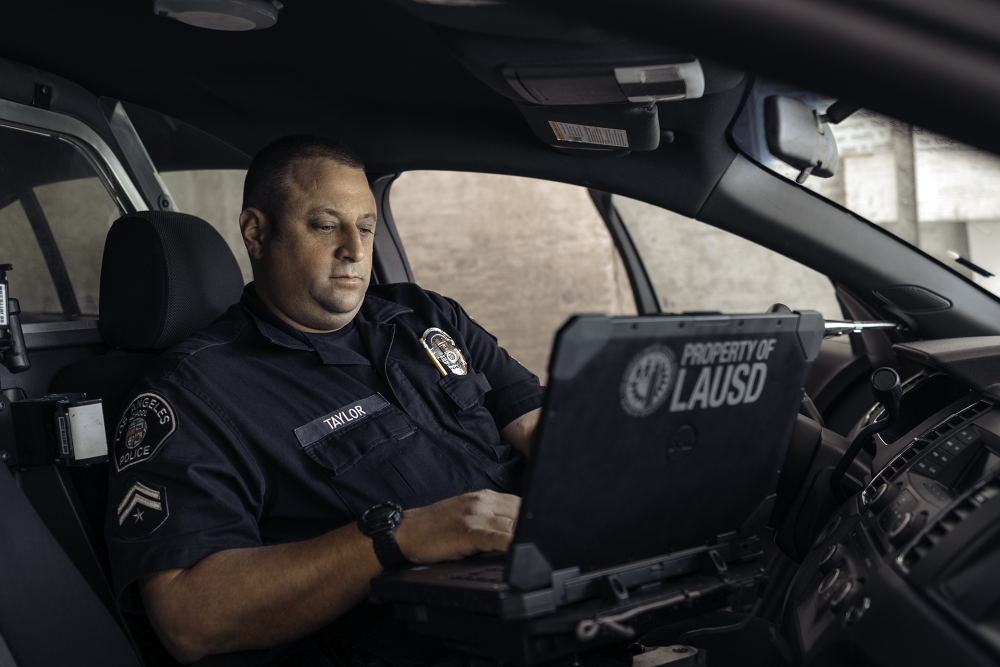 The Los Angeles School Police Department has a lot of precious ground to cover (approximately 710 square miles). Focused to protect students and partner with schools across the geographic area, they are the largest school police agency in the United States and the fifth largest agency in LA County.
One man has the important responsibility of innovating LASPD's standard processes with the creative use of technology and modern communication tools. Officer John Taylor always wanted to serve as a police officer. He just never expected that his role in the Los Angeles School Police Department's technology unit would lead him to become an app developer as well. His problem solving acumen has turned the LASPD from paper-dependent to a department that fully embraces technology and innovation.
Protecting over 1000 schools.
With more approximately 360 sworn officers and 100 non-sworn school safety officers who are responsible for covering over 3000 locations (including childcare centers, schools, and occupational centers), the LASPD needs to take advantage of every opportunity to become a more efficient department. Due to the large area they cover, their department's desire for increased efficiency and data security is definitely warranted.
In the past, most of these administrative tasks fell on the shoulders of the officers. These necessary-yet-inefficient tasks would run the risk of keeping the officers from focusing on their core task of protecting the public. Fortunately, things are a lot different for the LASPD through their partnership with Claris and their supportive community.
Claris FileMaker puts LASPD's files and communications in one location.
Claris FileMaker plays a central role in the LASPD's digital transformation. From the simple handling of zip code data tables to the more involved integration of APIs with FileMaker, their department has come a long way since the days of creating reports with #2 pencils. With over thirty applications in use across their vast department, FileMaker provides a custom solution that saves time and money for the LASPD.
A better way to submit overtime logs
The LASPD is working hard to reduce written communication in their human resources (HR) and payroll processes. Fortunately, the LASPD has experienced a positive breakthrough with their overtime reporting process with the help of Claris FileMaker. "Using Claris FileMaker to report and calculate overtime is our biggest success," said Taylor. "Officers would have to write their hours on a piece of paper and give it to their supervisor, who would have to sign it and drive it downtown for payroll."
The LASPD's old system for overtime would result in occasional payroll errors, but those days are gone. Now, supervisors no longer have to make the arduous trek downtown and officers are able to track each step of their overtime payment process.
Increased accountability and less paper for field stop reports
California's Racial and Identity Profiling Act of 2015 requires officers to collect specific information from every stop they execute: the perceived demographics of the individual stopped, their age, documentation of the type of violation, and what actions the officer took during the stop. These reports were submitted to the California Department of Justice through an inefficient FTP process.
Now, with Claris FileMaker, the officer fills out the stop data form from his or her patrol car, without the need to log into another system for submission. The information is instantly transmitted to a supervisor for approval and eventually gets sent to their data analysis team and the police chief before its submission to the Department of Justice. This multi-step process is all completed efficiently with Claris Filemaker.
HIPAA-compliant mental health response call notes
In September 2019, Taylor deployed an app that tracks all the mental health response calls and provides an environment for case management. "In the past few years, we've seen an increase in mental health calls," said Taylor. "We'd be hand-reporting records that really needed to be tracked carefully so the case could be researched by both the district's officers and clinicians." With Claris FileMaker, the app allows for real-time data verification, while also protecting patient data under HIPAA regulations. "FileMaker lets us encrypt everything," said Taylor in reference to maintaining HIPAA compliance with their system.
How can you get started?
Officer Taylor wanted to focus on his most important work. He succeeded — by learning to build apps that have transformed his organization. You can too. Read more about how Claris can help you innovate at the Claris FileMaker page.