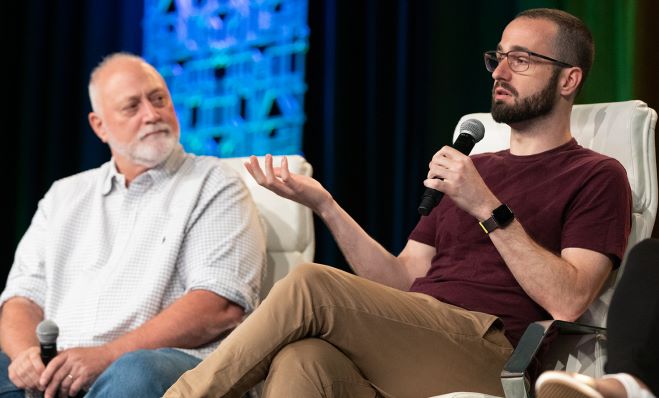 Claris FileMaker 19 is the first open release of our platform. And in the spirit of openness, we're pleased to offer an early preview for Mac users: it's a quick start experience designed to simplify app creation — particularly for new users. We talked about it at #ClarisEngage2020 and with FileMaker Pro 19.1.2 you can try it for yourself.
The preview offers an entirely new way to create custom apps in Claris FileMaker, just by using drag and drop. Now you can jump-start app development in minutes. Then use the full toolset of FileMaker for no-limits development.
Why are we doing this?
Imagine FileMaker as an Olympic-sized pool: our quick start experience represents the shallow end and the full power of FileMaker Pro represents the deep end. The deep end isn't going anywhere, but the new shallow end is designed to bring more developers to the platform. We all know the world needs more developers, and this will make it easier for app users to start building custom apps themselves.
In the coming months, we'll release more updates so you can create using browsers from any device, in the cloud, or on premise. But for this release, we hope you'll have fun with the preview.
Here's what you can do today:
Start from a new, blank file using FileMaker Pro for macOS.*
Assemble your new app using drag and drop to combine fields and graphic objects. They'll automatically reflow on a dynamic grid, keeping your layout looking polished and professional.
Then, use the smart layout tools to customize style.
Build one or many layouts, then click "Done" to continue working on your new app leveraging the full capabilities of FileMaker Pro.
Here's why the quick start experience is good for the Claris Community.
Over the years, FileMaker has become incredibly powerful, but simplicity has also been its hallmark. We believe anyone should be able to create apps that make their business better, even if they don't have deep technical skills.
And we've heard from many of you that you're tired of getting bogged down in small projects. Our latest offering could eventually allow you to offload smaller projects. Once the work grows beyond the capabilities of new users, they'll circle back for help. They get the satisfaction of going from zero to "aha!" in just minutes, and you get to help them expand and grow when the time is right.
Of course, now more experienced users can prototype faster too.
Whatever your skill level, this new offering means you get to enjoy a truly modern authoring experience.
Great! But why the limited release?
We're giving you an early preview for three reasons.
First, because we want to give you a peek at the future and a sense of what you can accomplish even with a very limited version of what's to come.
Second, because we want your feedback. Even if you're an advanced developer, we want you to critique the offering through the lens of a new user. Think back to when you began using FileMaker.
What do you wish you'd had back then?
What aspects might be frustrating for a new learner?
What works?
What could be improved?
Let us know!
Finally, this release is part of our new agile approach to development that we've promised. We're literally delivering a minimum viable product into your hands, rather than waiting for perfection. We'll deliver value to you faster, then iterate based on feedback to make this the best it can be.
We're serious about wanting your feedback! Please let us know what you think by visiting the Claris Community. We promise you that our team will review and consider each piece of feedback for our next release.
*Requires FileMaker Pro 19.1.2 for macOS (English only). "Use advanced tools" in Preferences must be unchecked. FileMaker Server cannot be installed on the same machine as FileMaker Pro.