Was that you who made all that noise at the pool bar last night?
My mom always taught me to look on the bright side of things and find good whenever and wherever you can. While we at Claris are bummed that we could not be together, there are some silver-linings in us having a virtual conference this year, including:
Avoiding "Stairmageddon" while moving from one session room on one floor to another session on another level
During a break, you do not have to come up with a plausible excuse for taking seven cookies with you as you leave the Product Showcase. Author's note: the need for this excuse might only apply to me
Your home refrigerator (hopefully) does not require drink tickets
It is now perfectly acceptable to attend the conference events wearing your pajamas. Previously it was frowned upon.
Coffee...24 hours a day!
PLANNING AND THEN REPLANNING
August 5th is National "Work Like a Dog Day." I can't make this stuff up. However, for the last several months, much of Claris has been working like a dog to bring you Claris Engage 2020.
As you might expect, planning a conference, the size and scope of Claris Engage is no small feat. Before you all left Orlando in 2019, we were already well on their way to planning for Claris Engage 2020 in Nashville.
And then we got hit with a pandemic.
After 24 years of putting together onsite conferences, putting together a virtual one was not easy. Gone were the concerns of how we were going to prepare 1300+ conference bags in 36 hours or the headache of verifying, alphabetizing, and categorizing all the conference badges. Instead, these concerns were replaced with new concerns like, "What happens if WebEx does not work?" or, "Can we count on Engage Speakers to become video producers overnight?"
While planning, many times, we stumbled and fell, but other times we didn't. We rejoiced in our successes. And in the end, it all came together. I am proud of what we accomplished in a relatively brief period.
SPECIAL SHOUTOUT TO THE WOMEN INNOVATING TOGETHER
The Women Innovated Together (WITfm) group got things rolling today (and yesterday) at 8AM.
WITfm exists to provide visibility, community, and resources for women working with Claris products, including but not limited to FileMaker. WITfm is a volunteer-run 501(c)3 nonprofit seeking to advance women interested in learning and working with Claris software. They provide networking opportunities, scholarships for the annual Claris developer conference, mentorship, and leadership opportunities. WITfm is comprised of women around the world who work in various roles, including developers, analysts, entrepreneurs, project managers, consultants, administrators, support services, trainers, and many more.
During Claris Engage, their events were the virtual equivalent of arriving in the exhibition hall before the keynote and looking around to see those familiar faces you have been missing, as well as making new connections.
Also, during their event on Tuesday, they announced their 2020 scholarship winners. Put your hands together and give a virtual "whoop whoop" to the following winners...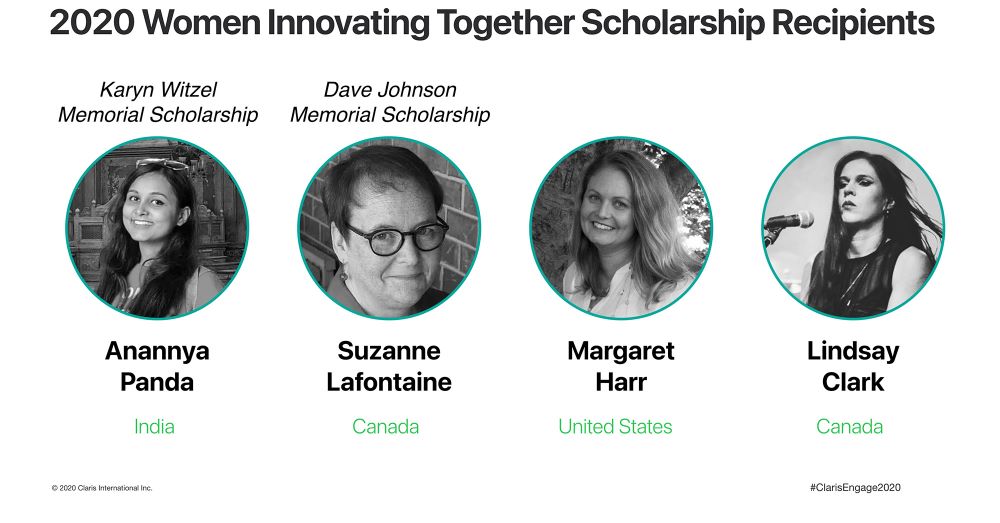 Learn more about WITfm by visiting their website: https://womeninnovatingtogether.org
SOMETHING SMELLS GOOD - WHAT IS IN THE OVEN?
It's not meatloaf this time. Sorry to disappoint some of you.
We began the day with everyone's favorite, "Vision Forward: Claris Platform Futures." In other words, we all got to see some of the cool features and functionality currently being worked on back in Santa Clara.
The highlight of the Product Management & Friends presentation was the forthcoming add-on functionality. Add-ons provide simple ways to expand the functionality and appearance of your custom apps significantly. Equally impressive, if you change your mind, an add-on can remove all traces of itself from your app, including any schema and scripts the add-on added. John Sindelar from SeedCode showed us that with just a couple of clicks, you can include a world class calendar view into even the simplest of custom apps.
We also got to see a new "quick app authoring" design feature. Coming soon to FileMaker Pro, and later to FileMaker Cloud and FileMaker Server, quick app authoring allows anyone to snap together templates and add-ons and create simple apps faster than ever. Layout are responsive, so objects flow and move out of the way when new components are added, making beautiful designs a breeze.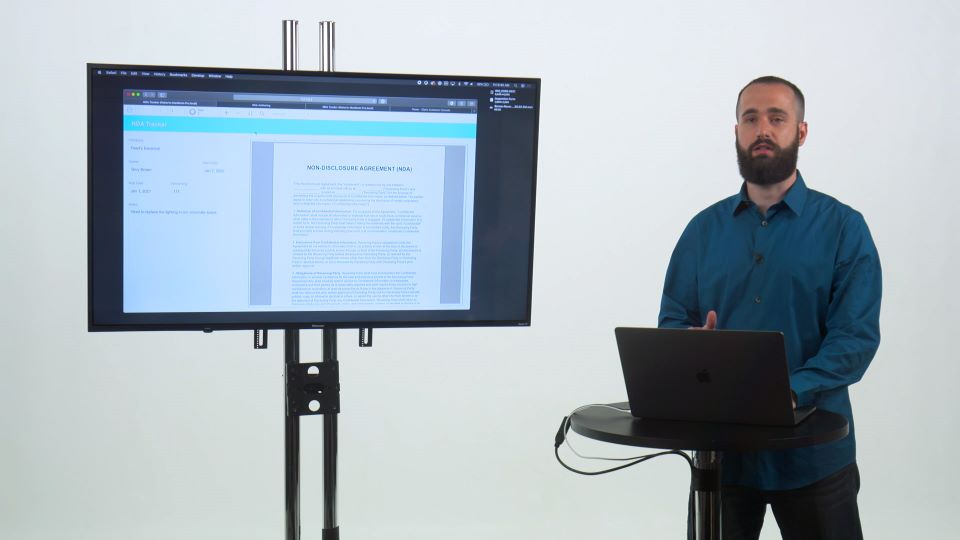 And the hits kept on coming. How many among us have looked at a paper form and thought, "Gee, I wish I could get this into my custom app" but were discouraged by the amount of time it might take and how accurately you would reproduce it. Wait a minute. Did I just see Niousha Zadeh drag and drop a form into the Cloud Console and automatically create a layout using machine learning? Absolutely I did!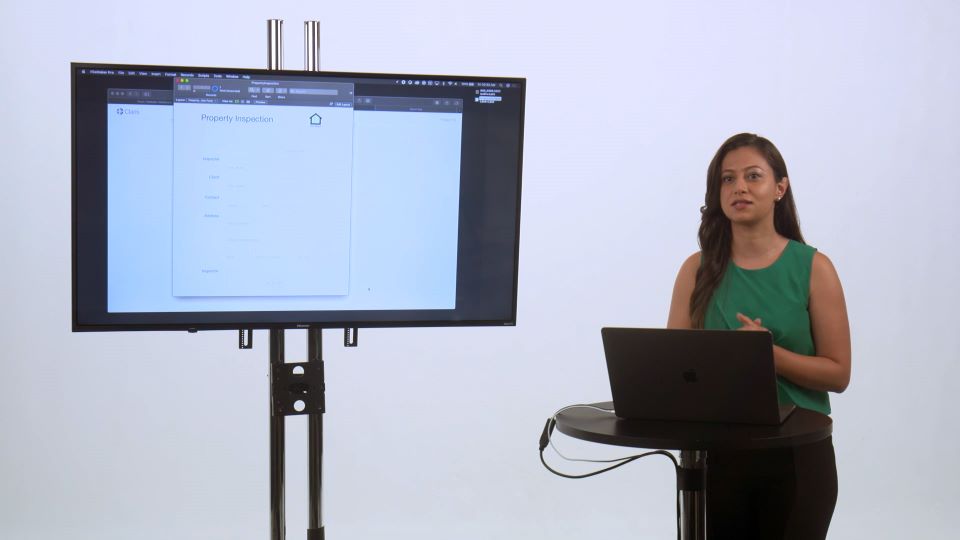 With the low-code power of Add-Ons and quick app authoring, what are you going to do with all your free time? Perhaps check out the Claris Marketplace where you will be able to browse through "aisles" of add-ons, both provided by Claris and other 3rd parties, that can extend your apps' functionality in minutes with just a couple of clicks.
And for all of you who've been asking for Android client support, we hope you have a collective smile on your face with the announcement that it's on the horizon.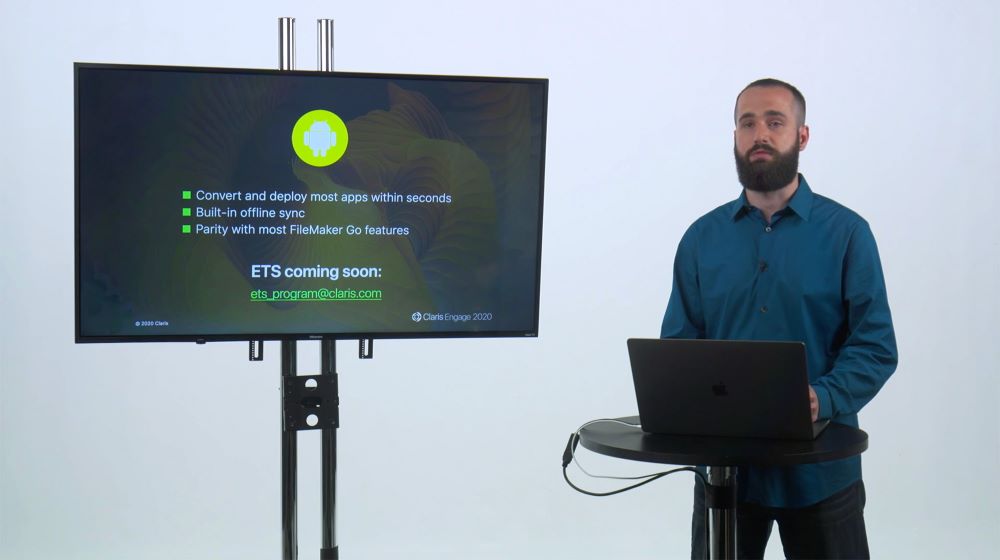 DAY TWO LIVE PANELS AND DISCUSSIONS
Next, the Product Management team, members of Claris Engineering, and the Claris Community shared the spotlight in an under-the-hood session centered around Claris Connect. They discussed the real-life impact of workflow centric design for digital transformation, highlighting real-world examples. This discussion also demoed two new features coming to Claris Connect - Code Blocks and Data API Notifications.
After that, Claris Partner Manager Mia Roop highlighted the Claris Partner Program and the benefits of joining the Claris ecosystem of problem-solver partners. So many questions, so little time. But great to see so much interest for our programs and can't wait to welcome all new partners to our community.
Following Mia was an exciting business panel consisting of four executives sharing their experience using the Claris platform to drive growth and success. Always feels good to see success stories like this and how Claris products are making a difference for others. Sure it surfaced some amazing examples of FileMaker success experiences on the C-level.
Ross Rubin from ZDNet & Reticle Research moderated the following panel that discussed the emerging technologies that are driving the next wave of digital transformation. Technologies like machine learning to artificial intelligence to the Internet of Things (IoT) were discussed.
Security is always a hot topic. As our economic landscape changes and businesses approach a "new normal," the threat landscape has changed also. Claris Product Manager, Sangita Banerjee, was joined by other members of the Claris Community to discuss security.
The Day 2 panels wrapped up with Stephen Nellis from Reuters, moderating the myths and the truths for developers and businesses as they pertain to the low-code boom. Joining Stephen was Claris' own Brad Freitag, Jordan Watson from Solis Digital, and Taylor Erickson from Safeguard Medical. They took us on a low-code journey - painting a picture that the days of someone locked up in a backroom agonizing over a block of code are behind us, and that sophisticated technology does not need to be a barrier to creating powerful custom apps.
WE ARE SURROUNDED BY AWESOMENESS
It is customary at our conferences to honor those who went above and beyond in Claris's ecosphere. Just because we are virtual not mean we cannot celebrate. Did you check out that lively Hollywood-style red carpet video? This montage proved that we have some deserving winners once again.
Without further adieu, here are the winners of this year's Partner and Community Awards: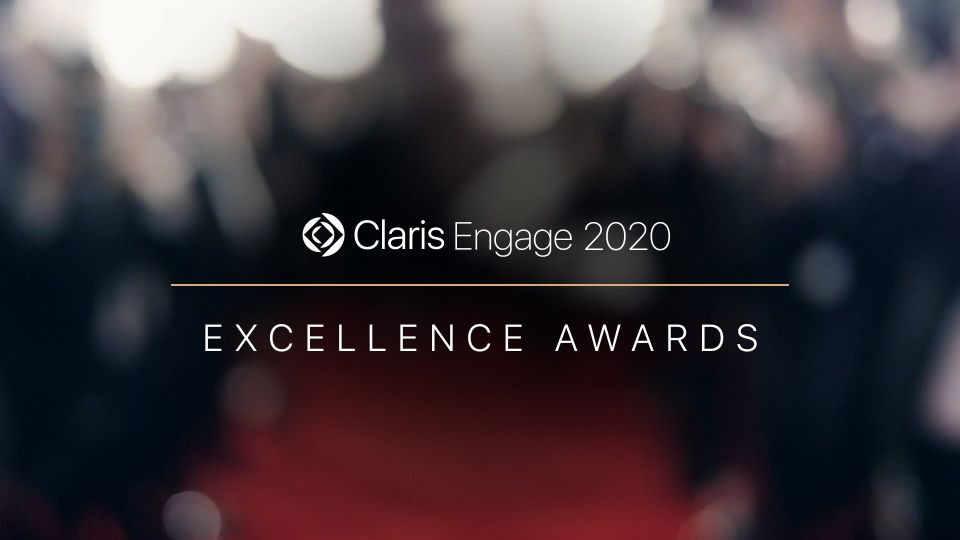 Community Leadership
Beverly Voth - Leader of the year
join::table - Development
Excellence Awards
Solis Digital - Develop
Codence - Design
Seedcode - Innovate
Productive Computing - Educate
Soliant Consulting - Advocate
Growth Partners of the Year
Kamar - Asia Pacific
Supportas - North Asia Pacific
Lesterius - Europe
dbServices - Americas
Congratulations to all the well-deserving winners this year!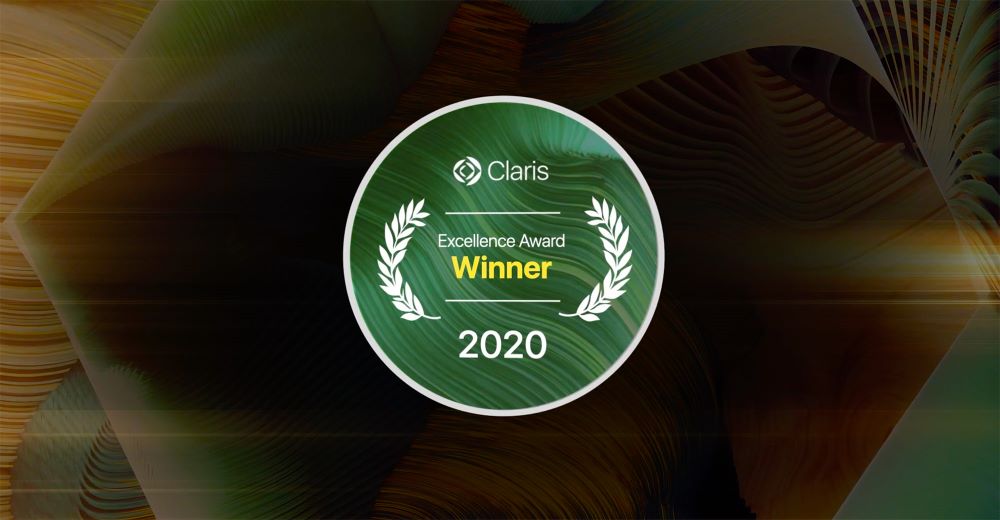 ARE WE THERE YET?
Britta came back with closing comments and announced the highly anticipated location for Claris Engage 2021.
She, and the rest of Claris, look forward to seeing you again on September 14-16 when Claris Engage returns to the West Coast and beautiful San Diego, California!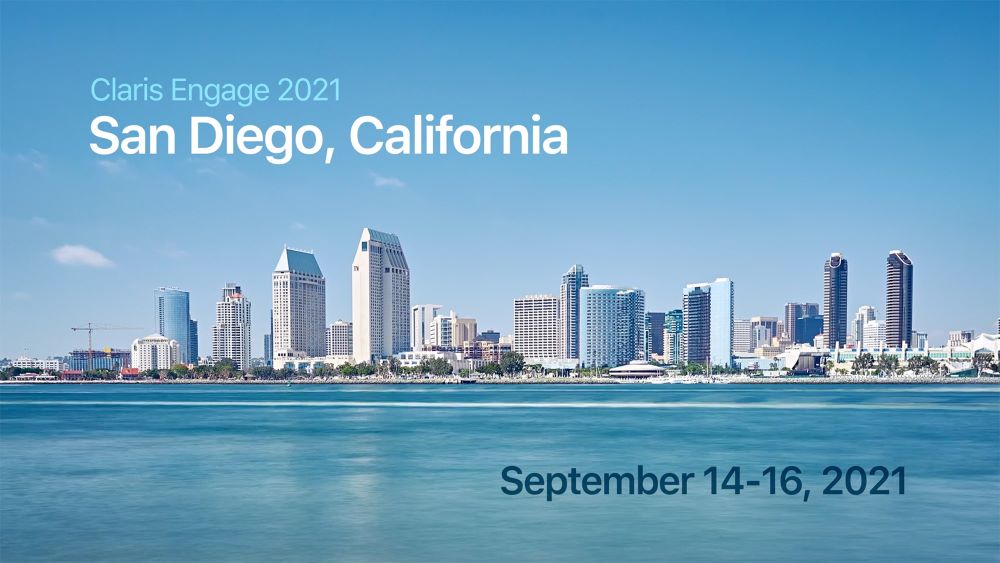 SDROW LANIF (AND NO, THIS IS NOT A TYPO)
Thank you to all who busted out their code-breaking tools yesterday and tried to steal Britta's thunder by guessing the location of Claris Engage 2021 by reading my Day 1 recap.
What do you mean you missed it? It was staring you right in the face.
Reviewing yesterday's blog post, pay special attention to the first letter in each of the eight headings that were used. What do the eight letters spell out?
O-G-E-I-D-N-A-S
Gibberish...right? Of course, it is. But if you read those eight letters from right to left, it spells out...
S-A-N-D-I-E-G-O
Now don't you feel foolish missing that!?
We hope you all enjoyed the live sessions over the last two days and that you leave with renewed enthusiasm and inspiration. Remember many on-demand sessions are heading your way. A list of all the upcoming on-demand sessions can be found on the Claris Engage page.
HOW'D WE DO?
Ready to let us know how we did? We'd love it if you'd take a few minutes to fill out this survey. And, to let you know how much it means to us, we'll even send a gift (not a GIF) to express our appreciation. Thanks in advance for helping us improve future events!
By the way, we taped your Claris Engage 2020 conference shirt to the bottom of your home office chair when you were not looking.
See you in San Diego!