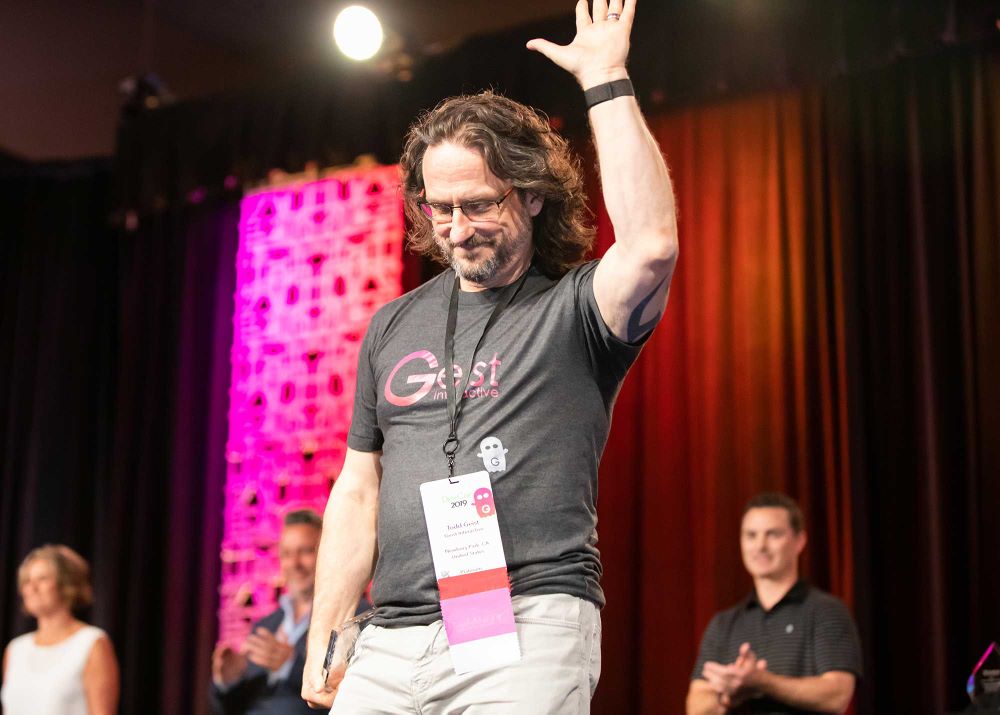 In our problem solver spotlight, Todd Geist shares his thoughts on digital transformation and keeping up as a technologist. Todd is CEO of FBA Platinum Partner Geist Interactive, a long-time contributor to the FileMaker Community, and a frequent DevCon speaker.
Claris: Why is it important for companies to invest in a Workplace Innovation Platform?
Todd: Companies are all going through some kind of digital transformation. They are moving more and more of their operations and unique value into software systems of some kind. Therefore, a company can really only be innovative if its software systems allow it to be.
A workplace innovation platform makes it easier for a company to respond to changing requirements and opportunities by making a wide variety of advanced technologies and techniques easier and available to more people. In doing so, it unlocks the creative potential that would otherwise be held hostage by inflexible, rigid systems.
What do you and your team do to prepare for emerging trends and changes in this industry?
We read a lot, and we experiment a lot with different frameworks and tools. I read about 6 trade newsletters a week and I follow industry leaders on Twitter. Then we try to bring what we learn to the FileMaker Platform. Sometimes this works great, and sometimes it doesn't. The important thing is to keep learning.
What skills, abilities, and personal attributes are essential to success as a developer?
Being curious and relentless is a nice combination. It's helpful to want to learn new things and then not be stopped cold if you can't figure it out at first. Sometimes the only way to learn something well is do it wrong and get frustrated for a while. So, you have to keep going. Keep trying new things. Keep asking questions and keep looking for the answers. What I think you'll find is that the questions are more important than the answers.
What is your proudest accomplishment working in this industry?
Geist Interactive has customers in over 50 countries around the world and in every state in the US. The fact that so many people have chosen to trust some part of their FileMaker journey to us just really feels good.
How do you see this industry changing in the next 5 years?
Integration is fast becoming the primary problem that businesses have. Right now, that mostly involves moving data around from app to app or database to database through APIs. But in the very near future I expect to see integrations including not just data, and APIs, but user interface elements as well. Well start to see compose-able apps that include UI, business logic, and data from various applications all mixed together. We'll see tools evolve to make these sorts of mashups easier. I very much see FileMaker and Claris Connect as part of this trend.
What is something that has surprised you in the past 10 years?
The rise of JavaScript. 10 years ago, it was a messy thing that nobody wanted to use but everyone had to because it powered browser-based applications. Now it might be the most dominant programming language on the planet, and it runs everywhere. It has even become an important part of the FileMaker workplace innovation platform. It powers parts of FileMaker Server and is becoming a cross platform UI extension for FileMaker Pro, Go and WebDirect.
What is the best advice you have ever received?
"Not knowing is most intimate." This is the punchline of 800-year-old Zen Koan. I find it particularly good at helping me debug pesky FileMaker Scripts, but its larger context is that you really can't engage intimately with something if you are already sure what it is. If you can be less certain about whatever it is you are encountering, you will be more open to experiencing it as it truly is right now, in the present moment. This is great advice for conversations with loved ones, enjoying a sunset, or savoring a scoop of peanut butter ice cream, or saying goodbye to a cherished pet, or debugging a script. Not knowing.
If you would like to connect with Todd or follow his work, check out his profile on the FileMaker Community and follow him on Twitter @toddgeist. Watch his 2019 DevCon session: Why a Workplace Innovation Platform?