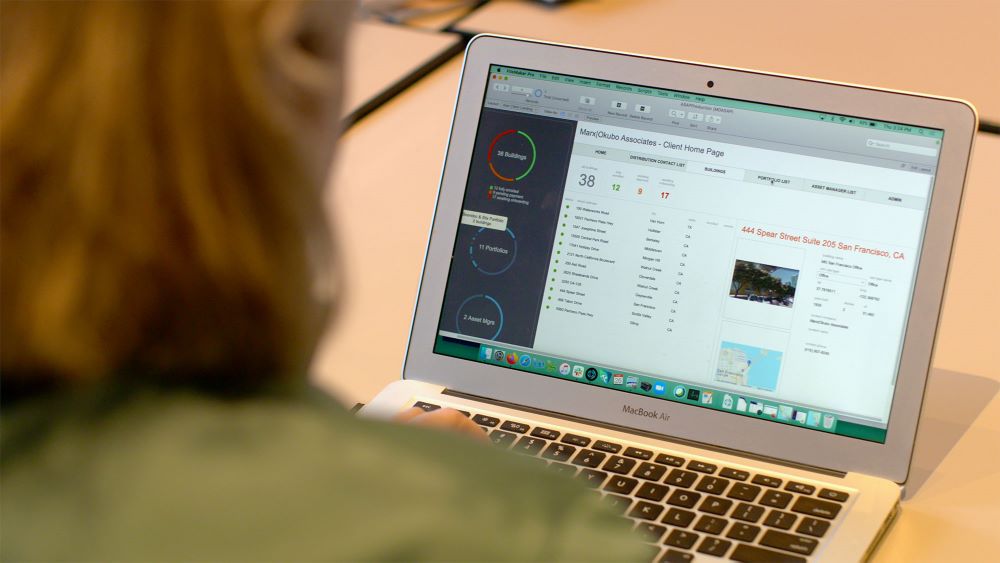 An earthquake typically leaves commercial real estate owners in the dark about which properties were impacted, how severe the damage is, and where to deploy resources first. Not anymore!
Discover how Marx|Okubo – a national architecture, engineering, and construction firm – helps clients better understand property-specific impacts after a seismic event with its ASAP™ (Automated Structure Alert Program) solution built using Claris FileMaker.
Low code without limits.
"If I can envision it, I can build it with FileMaker," says Alan Corkhill, director of technology for Marx|Okubo. And that's exactly what he's done.
Having worked with FileMaker for more than 20 years, Alan introduced the low-code development platform within each company where he's worked during the last two decades. At Marx|Okubo, FileMaker's impact has been big and broad — starting with the development of a streamlined timecard system to support billing and evolving to integrate with CRM Dynamics, Box, and other cloud platforms. The result: Dozens of digital solutions leveraging the same data to drive business efficiencies and most recently, a proprietary application to support client services.
"FileMaker is being used in so many ways to make Marx|Okubo even better," shares Sandy Blair, vice president and regional manager of the company's San Francisco office. "The platform has improved our internal processes and our client services. It's been amazing to see the workplace innovation."
A client request plants the seed.
Two years ago, a Marx|Okubo client experienced a severe earthquake in the vicinity of several of its properties. The client asked the firm for help, looking for insight to understand the risk across its portfolio and how to best prioritize response.
"Thanks to our multidisciplinary approach to projects — with structural engineering, mechanical engineering, architecture, and technology all in-house — we were able to look at this industry need from all angles and the idea for our ASAP solution was born," says Sandy.
The firm knew where to turn to get the ASAP app off the ground: Claris Platinum Partner, SeedCode, and Claris FileMaker, of course.
From seed to full-blown solution.
SeedCode, a Claris Partner, has supported Marx|Okubo with a number of development projects over the years. For the ASAP solution, the firm wanted to marry information from its own seismic evaluations and risk assessments, conducted by the firm's structural engineers to determine existing structural vulnerabilities, with real-time time data from the United States Geological Survey (USGS).
"Many people intuitively think a building closest to the earthquake epicenter is the one that requires the most attention, but in fact, another that's miles away may be most at risk due to building type, structural materials, or other factors" explains Sandy.
SeedCode's ProMaps application provided a strong foundational element for the project. Used with a combination of technologies – all driven from within FileMaker – the ProMaps app determines which properties fall within the USGS data for risk analysis and provides visual reporting.
"One of the coolest features of the ASAP application is that it's really behind the scenes," shares Ann Kiser, project manager for customer projects at SeedCode. "Everything is automated and happening on the server, with reports sent out seamlessly thanks to automation powered by FileMaker."
Quick insight, quick response.
Within minutes of a seismic event, clients receive a report to intelligently assess damage and send response teams to the right locations. With easy-to-use reports that are graphically displayed, clients see buildings' proximity to event epicenter, site-specific severity, and damage classification, gaining actionable information to prioritize hardest hit locations.
"The ASAP application allows our clients to reoccupy their structures much sooner by prioritizing the appropriate response after an event," adds Jason Coray, director of structural engineering at Marx|Okubo. "ASAP provides a sigh of relief from clients, knowing what the event means to their individual properties."
Ann expands on the value. "There is incredible fear and uncertainty during natural disasters, and it's pretty powerful to mitigate risk and give customers a level of confidence during the chaos."
A need + custom solution = deep impact.
Marx|Okubo and SeedCode credit FileMaker's flexibility and accessibility, which allow the firm to take control of its own business processes and scale as needs evolve. "Sure, there are off-the-shelf products available, but it's customization that makes a solution perfectly matched to our business needs. FileMaker makes that possible," Alan shares.
Ann shares similar sentiments. "Imagination is a big part of software development, and I'm inspired every day seeing how FileMaker has impacted customers around the world and across so many industries. I tell every company to think about what you want the Claris platform to do for your business — and if you can wish it, then it's possible."
Already imagining where your business could go with a custom app? Turn your wish into reality with help from a Claris Partner who can create a custom solution for you or offer consultation. Find a partner near you.