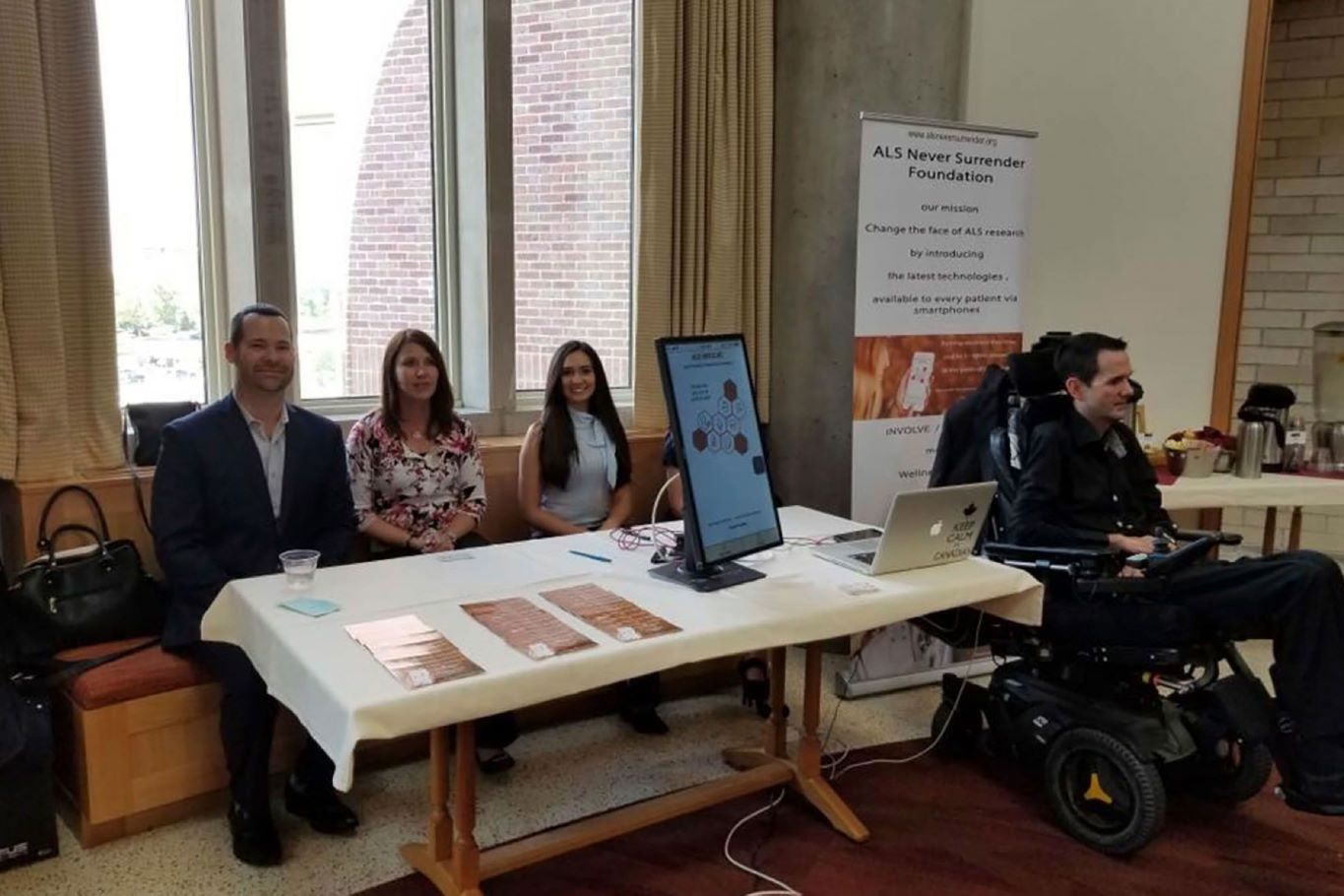 Taking control of an uncontrollable situation
In 2015, Stephen "Steph" Courdin and his family were devastated to learn he had Amyotrophic lateral sclerosis (ALS) or Lou Gehrig's Disease - a progressive neurodegenerative disease that slowly robs the body of its ability to walk, speak, swallow and breathe.
The disease affects 30,000 people in the United States, and approximately 250,000 globally at any given time, with only 20 percent living past the five-year anniversary of their diagnosis.
A technologist, Steph spent his free time after his diagnosis looking for a solution to the inefficiencies in the patient research gathering process.
Steph and his family went on to develop a patient-centered research (PCOR) tool for ALS data collection and repository. From there, the non-profit ALS Never Surrender Foundation was born and within three months, the bones of the ALS eNGAGE/ iNVOLVE app was created to capture more than 80 data points per patient on a daily basis.
Moving forward
Steph passed away on March 26, 2019, but his mission to find a cure continues. In July 2019, the volunteer-based ALS Never Surrender Foundation received a $300,000 grant from the ALS Association to bring its precision point technology to five clinical research trials, starting at Harvard University/Massachusetts General Hospital, Duke University, Barrow Neurological Institute, UC San Diego and University of Colorado, Denver.
"ALS isn't incurable, its underfunded," said Nic Friedman, Steph's son-in-law and current CEO of the ALS Never Surrender Foundation. "By using a tech-first approach to study this insidious disease we have been able to create a universal platform for those suffering from ALS to remotely log their progression, which creates an exponentially richer patient progression database to be analysed."
Technologists, not neurologists
Living with an ALS diagnosis means coping with progressive and changing symptoms, yet most ALS patients only see their clinical support team once every three months. This means changes are only tracked four times a year. With the average survival rate of an ALS patient being two to five years from diagnosis, often only between 8 and 20 points in time are logged using these traditional methods.
"Current progression surveys are subjective, and occasionally patients do not accurately report the changes with their mobility, mostly out of the desire to remain positive, or to shield their family members from their suffering and disease progression," said Nic Friedman, chief executive officer, ALS eNGAGE. "With this funding, we will see the role this technology can play in patient self-monitoring. Additionally, our mobile app enables clinical support teams to proactively respond to their patients' needs as their symptoms change. It will also provide critical data to researchers who are trying to identify trends to assess the impact of new therapies for MND/ALS treatments."
Previously, research teams gathered just 240 points of data per patient from diagnosis until death, but now through the eNGAGE/iNVOLVE app, researchers can gather way more – to the tune of 116,000 data points for the same time period.
How it works
The mobile app will run on the Workplace Innovation Platform as a Service from Claris and will partner with major technology experts that include Google AI, IBM Watson, Apple and Aural Analytics to remotely track over 80 metrics of range of motion, muscle control, dexterity, breathing, speech and other key vitals on a universal platform, creating an exponentially richer patient progression database to study.
"We needed a platform that was low cost and powerful since we didn't want to use our precious resources on developers, said Friedman. "With Claris FileMaker you can design, build and test mobile apps and then deploy to the cloud making it affordable and easy to use. We didn't have to learn a new coding language to build a custom app that would work seamlessly across the iPhone, Web, Mac, and eventually Android devices."
What's next
ALS Never Surrender Foundation says 100 percent of all funding goes to the development, testing and debugging of the mobile app technology.
"With the next three years devoted to data collection and analysis, the end goal is to get FDA approval for this app to be used as a medical device and make it accessible to the 35,000 US ALS Patients and eventually the 250,000 ALS patients globally," said Friedman.
. To learn more about the app, donate, or join the research please visit: www.alsneversurrender.org.