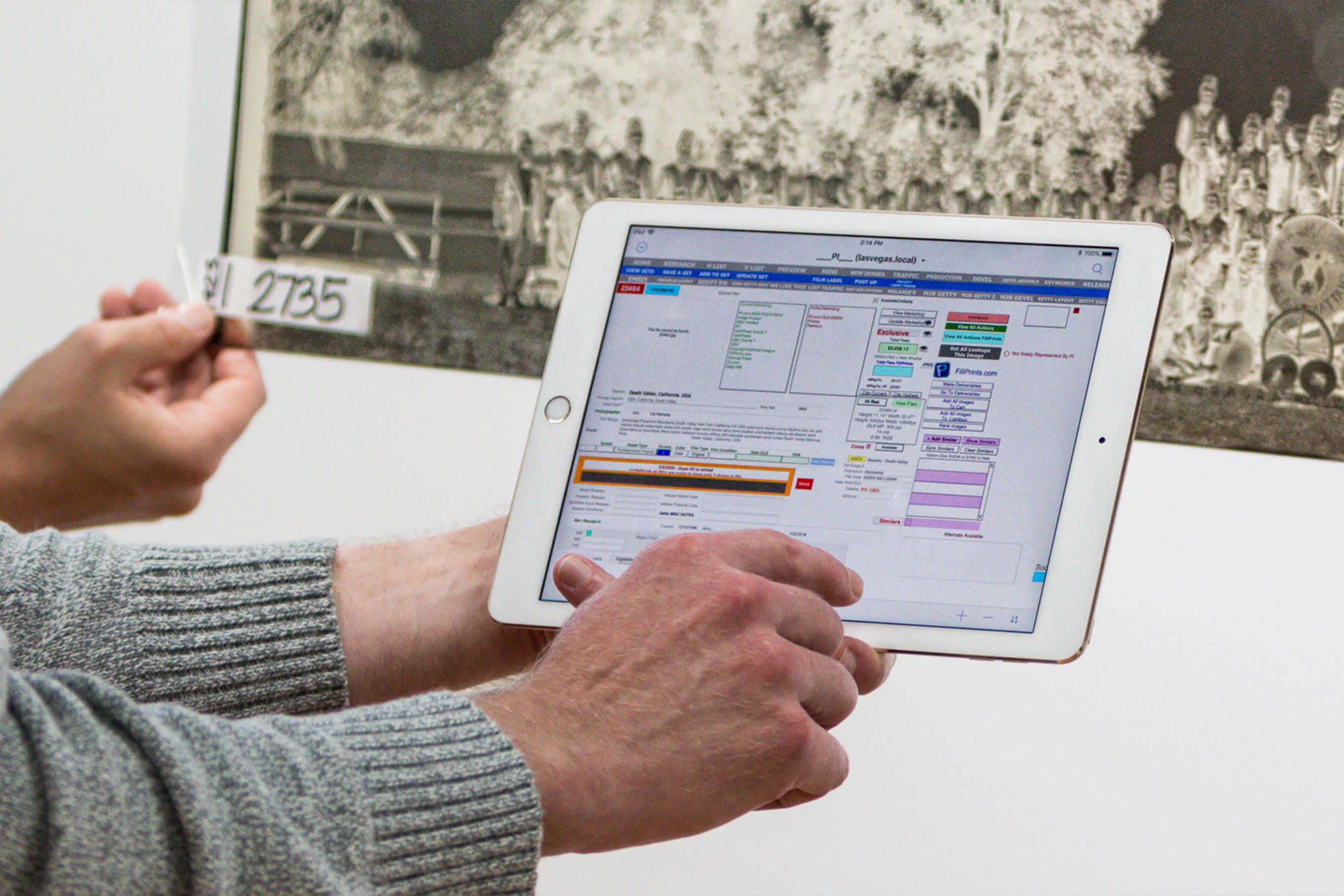 The only thing harder than sorting through a drawer of film is sorting through a drawer of disorganized film. That's why Panoramic Images needed a custom app, built on the FileMaker Platform.
For Panoramic Images, an Illinois-based specialty stock photo company, the FileMaker Platform has been an essential tool for adapting in an ever-changing industry.
"It's not about a static solution, it's about something ever-evolving," said co-founder Doug Segal.
Segal has been a FileMaker user for more than two decades. It started when he was looking for a way to organize the thousands of photos that came across his desk, without having to use a PC.
"We are 'pry the Mac out of our cold, dead fingers' kind of people here," he said. And, now, he said, he couldn't run his business without the custom app.
"We came up with an idea for something we needed, and we created it… and now we can build almost anything we want," he said of the app.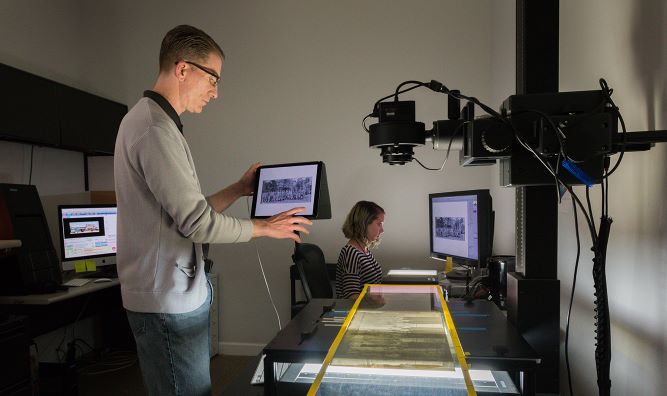 Tools for a changing world
Twenty years ago, Panoramic Images used to sell most of its landscape, skyline and travel photos for print advertisements in magazines. The photos fetched a high price, too, about $700 each. But today, where so much advertising has moved online, the average license of an advertisement photo has nosedived down to around $50.
That kind of price drop might have convinced someone else to change careers, but photography is in Segal's blood (his co-founder brother, Mark, is a professional photographer, as was Ed, their father). So instead of closing, the company adapted. It still licenses photos for many uses including advertising, but now specializes in creating bespoke ultra hi-res files for its clients to print murals for large hallways and walls. For instance, one recent client asked for a sport-themed hallway mural of a baseball field. But, they wanted to use a long skinny panoramic image where the baseball diamond was at one end of the mural — so that the diamond part of the image would be the backdrop for the perpindicular wall at the end of the hall.
Segal used his custom app to quickly comb through the company's 300,000 images and to ping several photographers who might have an image with an offset baseball diamond. The next day, he got back to the client with several large format photo options to choose from.
The company's app doesn't just allow Panoramic Images to manage an incredible volume of photos; it also accommodates many formats, sizes and even multiple iterations of the same photo. It can then send the photos to customers for review, download and purchase as well as keep track of all actions taken within a particular project. It also provides a place to label photos with details, metadata and keywords, and to ping or pay the photographer who took them.
"We came up with an idea for something we needed, and we created it… and now we can build almost anything we want"
Doug Segal, Co-founder, Panoramic Images
Sometimes, the old ways work better
Digital photography has long since replaced film as the norm in both amateur and professional photography, and most agencies now only deal in digital photos. But when it comes to making gigantic images, Segal said, film can actually be a much better medium.
Film photos, especially those taken by old cameras on very large transparencies and negatives, often look much crisper when they're enlarged than digital ones do. To get the same clarity for large landscapes, digital photographers often take overlapping photos — perhaps eight or so images — to combine into one image that's fit for a billboard or mural. Panoramic's custom app helps Segal sort through all kinds of images: multi-shot, high resolution digital images and scans of film negatives that are labeled for easy retrieval from the office's archive drawers.
Panoramic Images is one of only two such stock photo companies in the country that still uses film photos (the other agency, Robertstock.com, also has a custom app built with the FileMaker Platform), and its custom app is a major reason why it's been able to do so, Segal said. It's also what will help them integrate more high-tech images into the company's archives.
The company already sells 360-degree, surround-style images and is working towards selling immersive virtual reality content — all of which will be sorted,stored,interacted and licensed through the FileMaker custom app. The business is already using the system on its Mac computers and currently has a beta version for FileMaker Go so employees can respond and work when they're not at their desks.
The custom app brings new life for analog
But as Panoramic Images speeds toward the future, the app is also allowing the company to take on a massive historical archive project, the Fred Schutz Historical Collection.
The project started in the early 1970s. Segal was 12 years old, and his father took him to a garage where an elderly woman was selling dozens of piano roll boxes packed with large photo negatives. They were only one step ahead of a scrap photographic film silver recovery company who was going to "recycle" the giant negatives for their silver content. The 9,000 super large format images, which were taken with the Eastman Cirkut panoramic camera between 1910 and the mid 1960s, have been in his family ever since. The photos captured rare moments in American history in incredible detail, such as battlefields from the first American participation in WWI; Amelia Earhart posing with her plane at a Washington, D.C. airfield with the U.S. Capitol in the background, and all the way through John F. Kennedy's presidential inauguration.
One day each week, the staff at Panoramic Images works on scanning and archiving the Schutz Collection negatives. They hope to provide them to museums and collections that will preserve them for future generations, as well as sell prints to help finance the archiving of the remaining 7,500 negatives.
"A few of the photos are in the Library of Congress, but they're scanned from faded antique prints," Segal said. "And when these original negatives were passed down to me, I just felt a responsibility to preserve them. If they were lost, no one would ever know these moments happened."
To showcase the giant Washington-area photos at ten feet tall, Panoramic Images is partnering with the DCHistory Center at the Carnegie Library to create the museum's inaugural exhibit, The Big Picture, in late 2018.
It's slow work, Segal said, as the negatives are massive — about 300 times the size of a normal 35 mm negative, weigh about a halfpound each, and measure 10 inches high x 36 – 50 inches long — part of the reason why the panoramic photos were affectionately termed "yardlongs" in their day. To tackle the project, Panoramic Images had to create an entirely new scanning and FileMaker workflow. The information stored there doesn't only tell users about the photo negative; it also chronicles the condition it's in and how it's positioned in the architectural file cabinets (helpful information when 10 negatives can weigh five pounds).
So far, the team has scanned 1,200 of the images on its Digital Transitions Phase One 100 Megapixel scanner and archived them at 1 - 4 GB each, something they wouldn't have been able to tackle without the flexibility of the FileMaker Platform.
"We would have never taken on this project without having all the experience we do with FileMaker," Segal said. "It helped us conceive of a way to manage all the film, scans, data, as well as the distribution and marketing."
The company is always thinking about new ways to use its custom app built on the FileMaker Platform, Segal said, so much so that there's a meeting every two weeks dedicated to talking about new app features.
"All roads lead back to FileMaker," Segal joked.