The pace at ESPN Netherlands is extremely fast, with nonstop events spread across sports, channels, and time zones. And the broadcast details run deep, combining months-long planning with inevitable last-minute changes that impact commentators, operators, production crew, analysts, and third-party partners.
Whether viewers tune in to watch a one-off match, playoffs, or another competitive lineup, the ESPN Netherlands employees work tirelessly behind-the-scenes to ensure each event can be enjoyed by millions of fans around the world.
And Claris FileMaker helps make it happen.
No room for human error.
For many companies, there's room for continuous improvement related to operational processes, and ESPN Netherlands was no exception. Managing extensive production details via shared Excel spreadsheets on a shared server wasn't efficient or scalable—and opened the door for human error.
"We have such massive, collaborative operations with people spread across our studios, programming department, stadiums, and external production partner companies," explains Mark Van Enckguurt, manager of planning and scheduling with ESPN Netherlands. "The level of detail that goes into each on-air broadcast is extensive, and one small change can have a huge impact. A single cut-and-paste error can derail an entire event."
With live sporting events aired every day of the year, the organization needed ways to have everyone working from the same real-time data—in addition to getting automatic alerts of changes and preventing overlap and redundancies—while supporting 24/7 operations.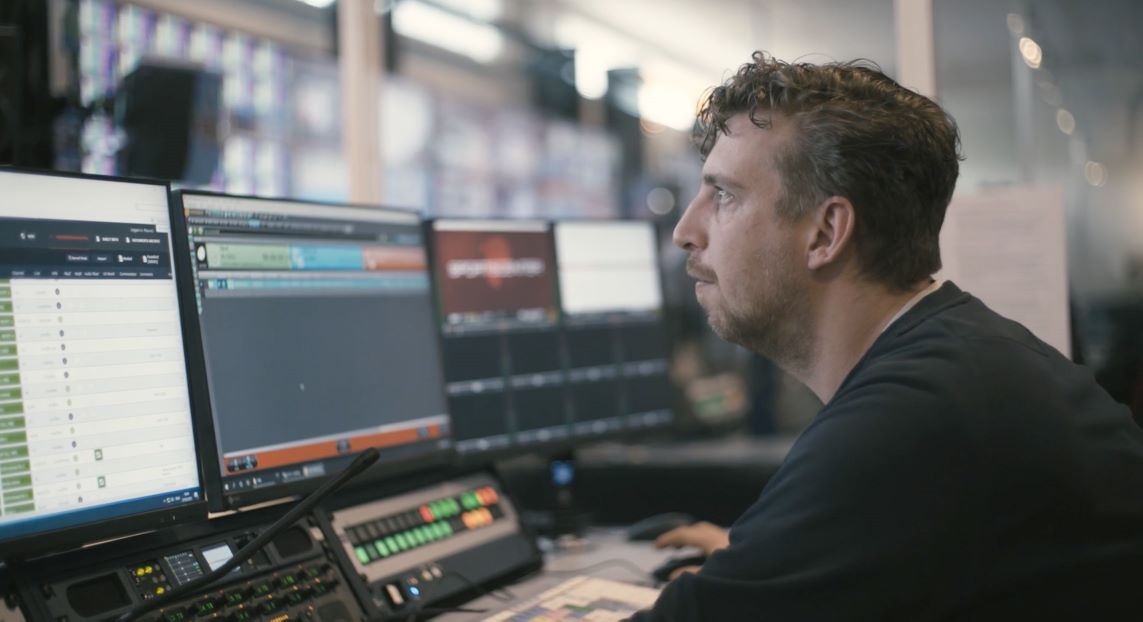 Bring in the development pros.
The ESPN Netherlands team knew they wanted to pull together substantial data across people and departments to create a custom database from which to work—but how? They received the answer from Willem-Jan Kempen, founder and president of Kempen Automatisering, a custom software development firm and Claris Platinum Partner.
"ESPN Netherlands needed an extensive system to support their robust business because the initial database was just the start of where they wanted to go, with a vision for web modules and third party integrations," shares Willem-Jan. "Claris FileMaker is the perfect, rapid application development environment for an organization like ESPN Netherlands, by providing short iterations, power, flexibility, and stability. So, we quickly got to work."
Claris FileMaker is really powerful and complex with multiple layers and customization options, but in the end, it's one real-time system that we rely on to support our work for our fans.
Rien Janssons, senior playout producer, ESPN Netherlands
Starting with a single source of truth.
The Claris Partner engagement was born out of an immediate need to streamline information for multiple teams working on the same broadcast, bringing transmissions and recordings into one place, then providing access to everyone who needed production visibility. With FileMaker, Kempen Automatisering created a single system at the core that could be customized and expanded for a variety of use cases. From there, the ESPN Netherlands system took off.
"We have different layouts and views based on the same accurate information, with changes shown across associated documents and views," says Rien Janssons, senior player producer with ESPN Netherlands. "We rely on this system for talent planning, events scheduling, transmissions, and operator and director planning."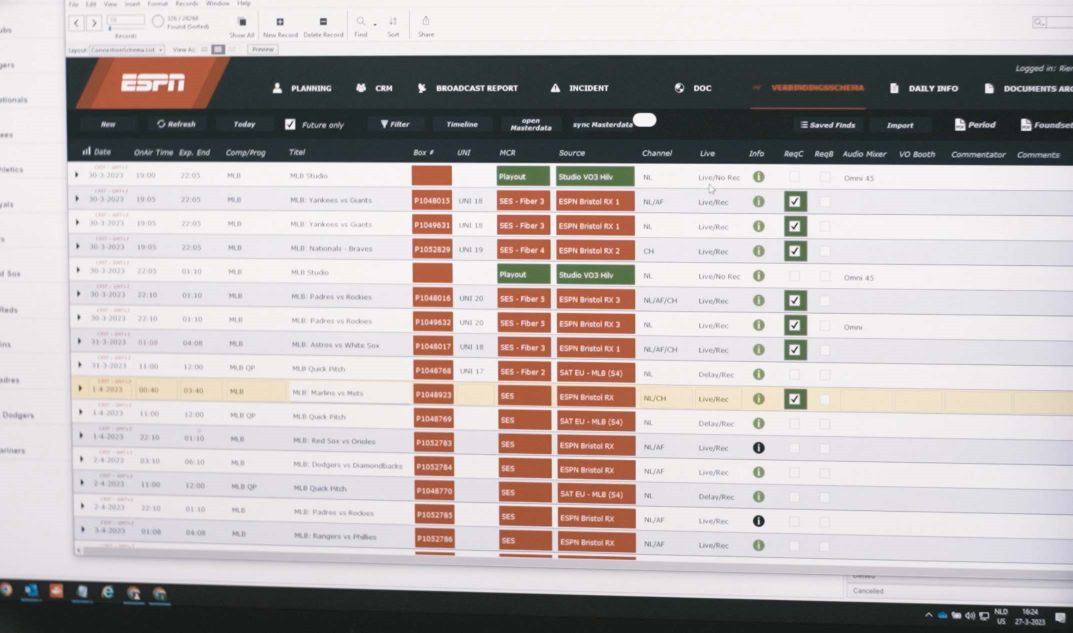 Integrations and web modules next in line.
The ESPN Netherlands system has quickly evolved as the Kempen team created new workflows and connected multiple data sources. ESPN Netherlands now has several web portals for various planning and production purposes and additional development plans on the way. Plus, the system integrates with NEP, a leading, third-party broadcast firm in the Netherlands, to share information about operator needs, resources, and schedules.
Sports agility takes on a whole new meaning.
A live broadcast means the ESPN Netherlands team can't just hit pause and fix a problem. Rigorous planning is essential, and the system must provide the agility to make quick, real-time pivots. FileMaker supports broadcast operations with:
Timeline graphical interface enables everyone to see free broadcasting spots.
Color-coded programming interface can easily be seen and used to flag outstanding items.
Widespread broadcasting and planning visibility along with programming documentation are instantly available via web access.
Automated SMS alerts update commentators and analysts on schedule changes.
Additional SMS alerts offer fast incident responses, customized based on incident level, from minor to urgent.
The ability to upload content immediately helps on-air crew navigate unexpected events, such as weather delays.
Planning and scheduling manager Mark has experienced the automated results first-hand. "We have a wide range of functionality coming out of one system, saving significant time for internal employees, our external partners, and freelancers. FileMaker is a one-stop shop for our day-to-day work."
More data, more users, more value.
Supported by Kempen Automatisering, ESPN Netherlands continues to evolve the FileMaker system. The organization wants new integrations with even more ESPN partners to deliver more value to the organization's 24x7 operations.
"As more information flows in and out of FileMaker, the stronger the system becomes," says Willem-Jan. "FileMaker really provides a total experience. With a good developer and FileMaker's powerful low-code tools, organizations like ESPN Netherlands can digitally transform how they work for the better."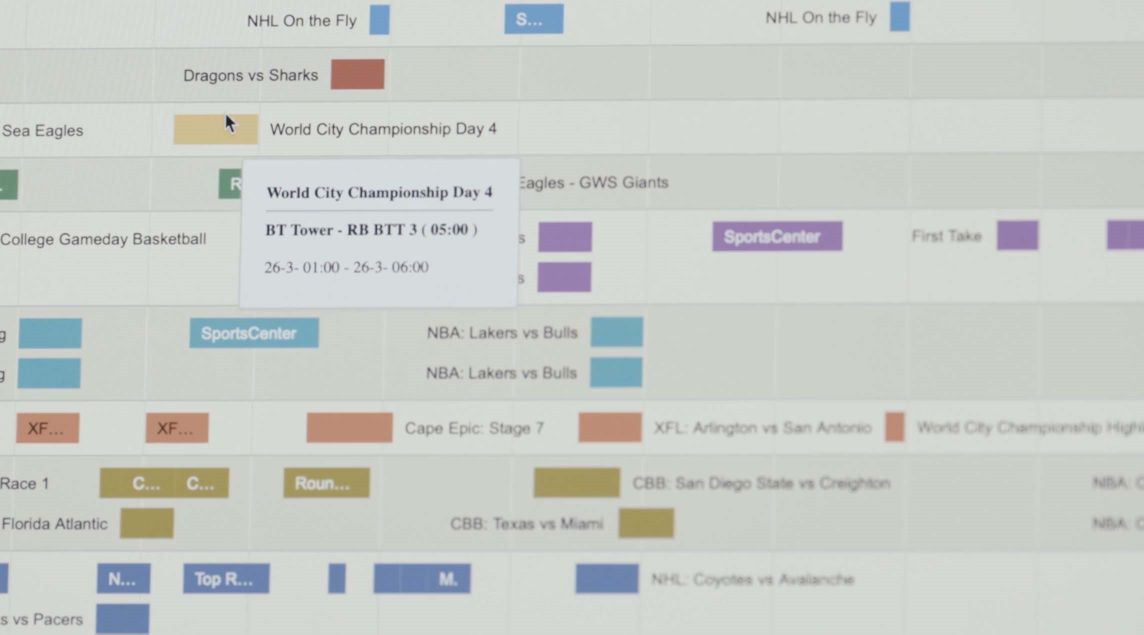 Discover what's possible with Claris FileMaker.
Ready to develop operational applications for today that scale for tomorrow? Working with a Claris Partner, like Kempen Automatisering, enhances digital innovation. Let someone who knows the FileMaker platform inside and out create custom apps and other digital solutions for your organization. Find a Claris Partner now.