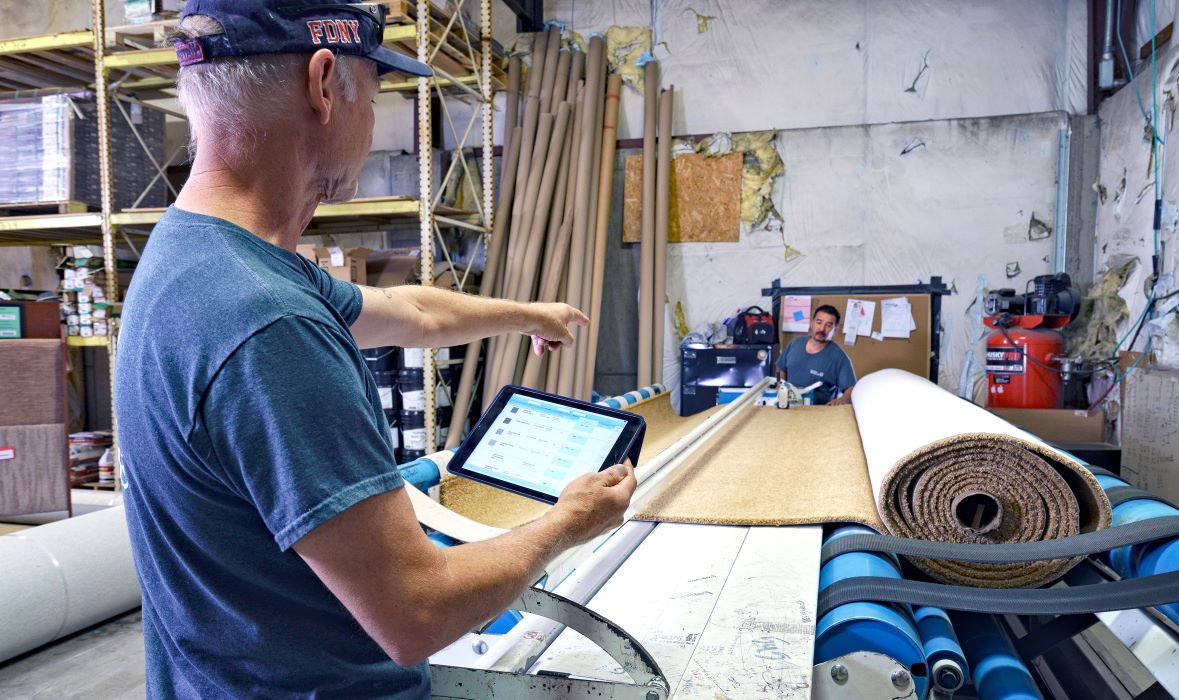 This successful flooring company relies on a custom app built on the FileMaker Platform to manage multiple projects and maintain a high profit margin.
The citizens of Colorado's Vail Valley seem to like nice floors. With a population base of only about 55,000 people, the region keeps Roger Benedict and his flooring business, Ruggs Benedict, hopping. In business since 1972, the company has gone from operating out of a garage in a trailer park to become the leading flooring store in the region. And it's taken Roger from carpet installer to business owner, running a dozen installation crews each day and poised for big growth. Whereas a normal floor covering store in a good market grosses about $2 million, Ruggs Benedict made $8 million last year and is on track to gross $10 million by the end of 2018.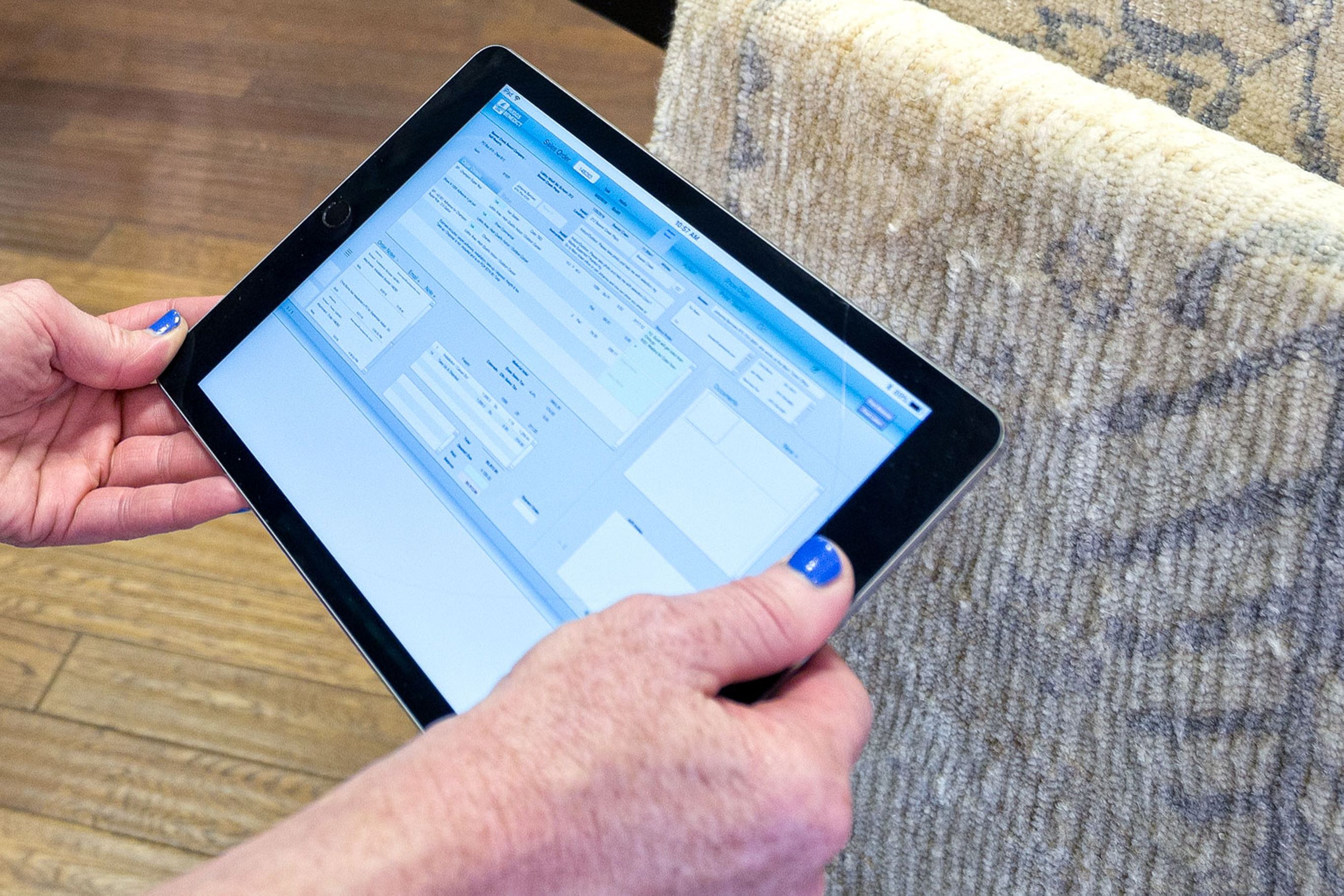 A view of the entire project lifecycle
When Roger began running the company in 1988, he was using computer spreadsheets to keep track of the various aspects of the business. "Those work fine for one person for one thing at a time," he said, "and that was their limitation." He needed to be able to see sales activity, project status and installation schedules in real time.
A friend of his was a local Apple support person, and he recommended using an early version of the FileMaker Platform to create a custom app that could streamline business workflows. Roger did not have any programming or coding experience, but he found FileMaker intuitive and easy to use. He used the platform's tutorials and developer's manual to learn what he needed to know. He also attended DevCon, FileMaker's annual user conference, multiple times to gain additional insight and skills.
Today, Roger uses the custom app for, in his words, "absolutely everything." The app spans the entire project lifecycle, from initial customer contact all the way through to the finished job. For instance, he designed a button on each salesperson's page that lights up when a job is marked off by the installation department. The salesperson then knows it's time to make a "happy call" to ensure the customer is satisfied with their new flooring. Once that call has been made, another button pops up: "Send review request." The salesperson clicks that button to request a customer review.
Employees also make thorough use of the custom app's email integration. With every new project that comes in, a salesperson creates a project card and a communication log is attached to it. This way, they can easily generate all kinds of emails. Whether it's answering a question or sending a product picture or an estimate for a project, they can just click a button and the email ends up in the communication log. The salesperson can check the log to see what emails have been sent and where they're at in the project. And if that salesperson is out, anyone can look at the log and know exactly where the salesperson left off so that customer interactions flow smoothly.
"A great thing about FileMaker is that you can make all these individual behavior paths and then tie them all together easily to make a sequence of events," Roger said.
"A great thing about FileMaker is that you can make all these individual behavior paths and then tie them all together easily to make a sequence of events"
Roger Benedict, President, Ruggs Benedict
The right tool for the job
Roger originally gave the sales staff iPad devices, but the salespeople were finding it too cumbersome to hold a device while pulling samples. So, they switched to the big screen. Staff now access the custom app at their workstations on Mac minis with 27-inch screens, where they can sit with customers once samples have been chosen.
iPad devices are perfect for warehouse employees, though. It's their job to check in all the material that comes in each day and check it out as it goes out. This enables them to keep track of what installation supplies need to be restocked, like adhesives and carpet cushions. They need to monitor the installation schedule as well, and a hand-held app makes all of this easy.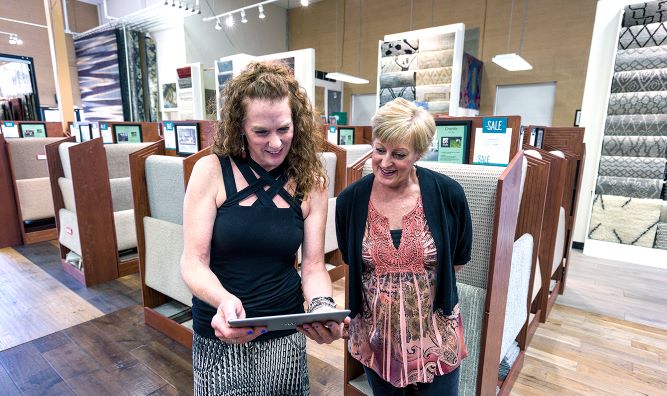 Unexpected financial benefits
Ruggs Benedict faces a unique billing challenge. Flooring orders tend to be pliable; a customer may decide to add a room or change a color up until the last minute. Advance billing isn't possible, so the custom app holds the bill in a queue until the project is complete. Then the bill can be moved into QuickBooks, which integrates with the custom app. This cuts down errors and improves customer experience.
That's a handy feature, but Roger has discovered that the ability to control product pricing is the single biggest win of the custom app. In many businesses, salespeople can quote low prices because they want to get the deal – and the commission.
"If you don't control that, they'll just give away the store," Roger said.
With the custom app, pricing is all push-button. Sales staff select a product and the app automatically fills in the appropriate price. Salespeople can offer some discounts, but they can watch their commission shrinking on the screen. This makes them much less willing to slash product prices, and that improves the bottom line.
From tracking the customer lifecycle to streamlining email communications to improving profit margins, Roger just can't speak highly enough of the custom app he built on the FileMaker Platform.
"It is hard to explain just how easy FileMaker is. I don't have to perform magic to create a custom app that meets all my business needs," he said. "I have nothing but respect and appreciation for the FileMaker Platform."